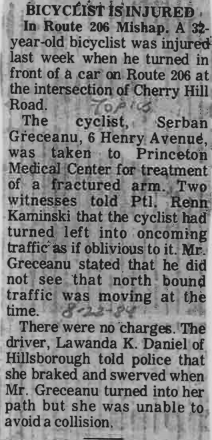 Town Topics
22 August, 1984
BICYCLIST IS INJURED
In Route 206 Mishap. A 32-year-old bicyclist was injured last week when he turned in front of a car on Route 206 at the intersection of Cherry Hill Road.
The cyclist, Serban Greceanu, 6 Henry Avenue, was taken to Princeton Medical Center for treatment of a fractured arm. Two witnesses told Ptl. Renn Kaminski that the cyclist had turned left into oncoming traffic as if oblivious to it. Mr. Greceanu stated that he did not see that north bound traffic was moving at the time.
There were no charges. The driver, Lawanda K. Daniel of Hillsborough told police that she braked and swerved when Mr Greceanu turned into her path but she was unable to avoid a collision.