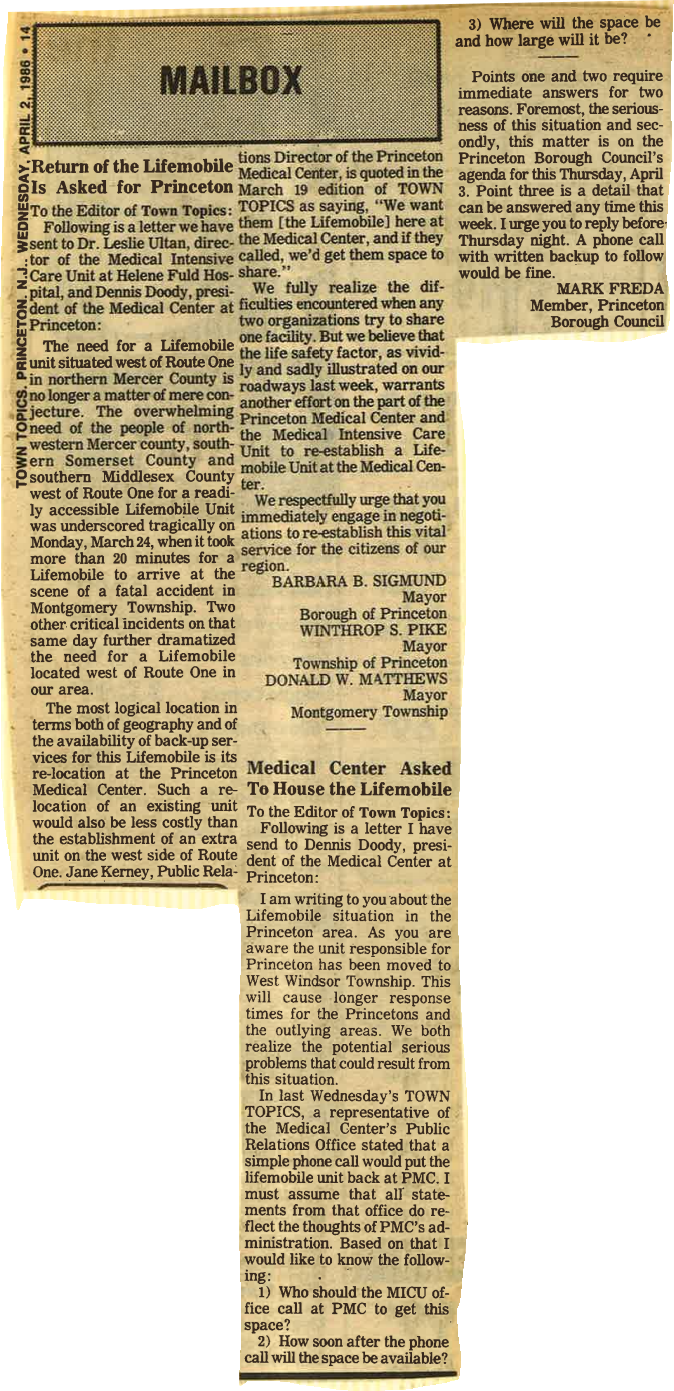 Town Topics
2 April, 1986
MAILBOX 
To the Editor of Town Topics: 
Following is a letter we have sent to Dr. Leslie Ultan, director of the Medical Intensive Care Unit at Helene Fuld Hospital, and Dennis Doody, president of the Medical Center at Princeton.
The need for a Lifemobile unit situated west of Route One in northern Mercer County is no longer a matter of mere conjecture. The overwhelming need of the people of northwestern Mercer County, southern Somerset County, and southern Middlesex County west of Route One for a readily accessible Lifemobile Unit was underscored tragically on Monday, March 24, when it took more than 20 minutes for a Lifemobile to arrive at the scene of a fatal accident in Montgomery Township. Two other critical incidents on that same day further dramatized the need for a Lifemobile located west of Route One in our area.
The most logical location in terms both of geography and of the availability of back-up services for this Lifemobile is its relocation at the Princeton Medical Center. Such a relocation of an existing unit would also be less costly than the establishment of an extra unit on the west side of Route One. Jane Kerney, Public Relations Director of the Princeton Medical Center, is quoted in the March 19 edition of Town Topics as saying "We want them [the Lifemobile] here at the Medical Center, and if they called, we'd get them space to share."
We fully realize the difficulties encountered when any two organizations try to share one facility. But we believe that the life safety factor, as vividly and sadly illustrated on roadways last week, warrants another effort on the part of Princeton Medical Center and the Medical Intensive Care Unit to re-establish a Lifemobile Unit at the Medical Center.
We respectfully urge that you immediately engage in negotiations to re-establish this vital service for the citizens of our region.
BARBARA B. SIGMUND
Mayor
Borough of Princeton
WINTHROP S. PIKE
Mayor
Township of Princeton
DONALD W. MATTHEWS
Mayor
Montgomery Township
Medical Center Asked To House the Lifemobile 
To the Editor of Town Topics: 
Following is a letter I have sent to Dennis Doody, president of the Medical Center at Princeton: 
I am writing to you about the Lifemobile situation in the Princeton area. As you are aware the unit responsible for Princeton has been moved to West Windsor Township. This will cause longer response times for the Princeton and the outlying areas. We both realize the potential serious problems that could result from this situation.
In last Wednesday's Town Topics, a representative of the Medical Center's Public Relations Office stated that a simple phone call would put the lifemobile unit back at PMC. I must assume that all statements from that office do reflect the thoughts of PMC's administration. Based on that I would like to know the following: 
1) Who should the MICU office call at PMC to get this space?
2) How soon after the phone call will the space be available? 
3) Where will the space be and how large will it be? 
Points one and two require immediate answers for two reasons. Foremost, the seriousness of this situation and secondly, this matter is on the Princeton Borough Council's agenda for this Thursday, April 3. Point three is a detail that can be answered any time this week. I urge you to reply before Thursday night. A phone call with written backup to follow would be fine.
Mark Freda
 Member of Princeton Borough Council