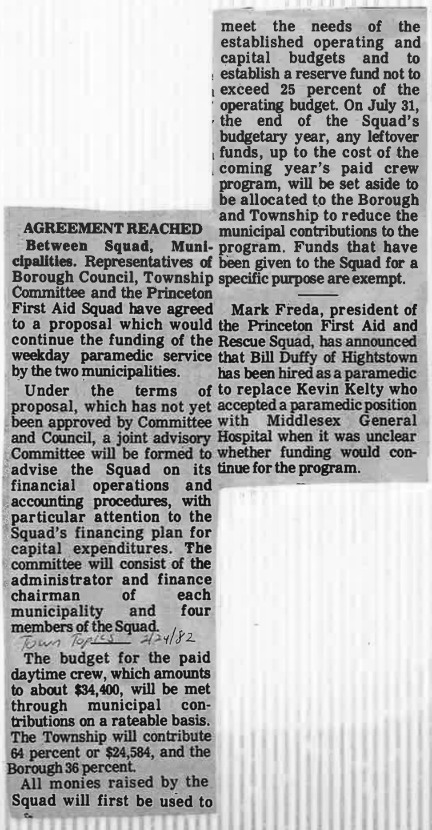 Town Topics
24 February 1982
Agreement Reached
Between Squad, Municipalities. Representatives of Borough Council, Township Committee and the Princeton First Aid Squad have agreed to a proposal which would continue the funding of the weekday paramedic service by the two municipalities.
Under the terms of proposal, which has not yet been approved by Committee and Council, a joint advisory Committee will be formed to advise the Squad on its financial operations and accounting procedures, with particular attention to the Squad's financing plan for capital expenditures. The committee will consist of the administrator and finance chairman of each municipality and four members of the Squad.
The budget for the paid daytime crew, which amounts to about $34,400, will be met through municipal contributions on a rateable basis. The Township will contribute 64 percent or $24,584, and the Borough 36 percent
All monies raised by the Squad will first be used to meet the needs of the established operating and capital budgets and to establish a reserve fund not to exceed 25 percent of the operating budget. On July 31, the end of the Squad's budgetary year, any leftover funds, up to the cost of the coming year's paid crew program, will be set aside to be allocated to the Borough and Township to reduce the municipal contributions to the program. Funds that have been given to the Squad for a specific purpose are exempt.
Mark Freda, president of the Princeton First Aid and Rescue Squad, has announced that Bill Duffy of Hightstown has been hired as a paramedic to replace Kevin Kelty who accepted a paramedic position with Middlesex General Hospital when it was unclear whether funding would continue for the program.