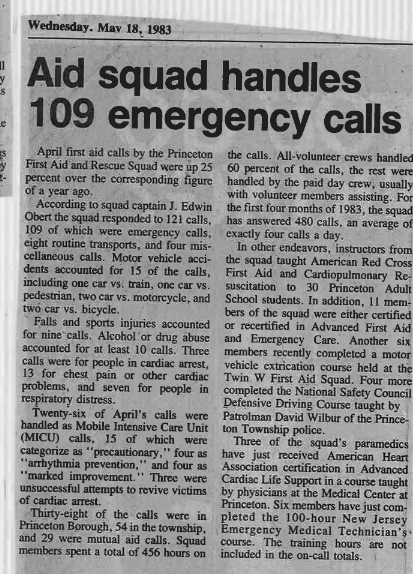 18 May 1983
Aid squad handles 109 emergency calls
April first aid calls by the Princeton First Aid and Rescue Squad were up 25 percent over the corresponding figure of a year ago.
According to squad captain J. Edwin Obert the squad responded to 121 calls. 109 of which were emergency calls, eight routine transports, and four miscellaneous calls. Motor vehicle accidents accounted for 15 of the calls, including one car vs. train, one car vs. pedestrian, two car vs. motorcycle, and two car vs. bicycle.
Falls and sports injuries accounted for nine calls. Alcohol or drug abuse accounted for at least 10 calls. Three calls were for people in cardiac arrest. 13 for chest pain or other cardiac problems, and seven for people in respiratory distress.
Twenty-six of April's calls were handled as Mobile Intensive Care Unit (MICU) calls. 15 of which were categorize as "precautionary," four as "arrhythmia prevention," and four as "marked improvement " Three were unsuccessful attempts to revive victims of cardiac arrest.
Thirty-eight of the calls were in Princeton Borough, 54 in the township, and 29 were mutual aid calls. Squad members spent a total of 456 hours on
the calls. All-volunteer crews handled 60 percent of the calls, the rest were handled by the paid day crew, usually with volunteer members assisting. Fot the first four months of 1983, the squad has answered 480 calls, an average of exactly four calls a day.
In other endeavors, instructors from the squad taught American Red Cross First Aid and Cardiopulmonary Resuscitation to 30 Princeton Adult School students. In addition, 11 members of the squad were either certified or re-certified in Advanced First Aid and Emergency Care. Another six members recently completed a motor vehicle extrication course held at the Twin W First Aid Squad. Four more completed the National Safety Council Defensive Driving Course taught by Patrolman David Wilbur of the Princeton Township police.
Three of the squad's paramedics have just received American Heart Association certification in Advanced Cardiac Life Support in a course taught by physicians at the Medical Center at Princeton. Six members have just completed the 100-hour New Jersey Emergency Medical Technician's- course. The training hours are not included in the on-call totals.