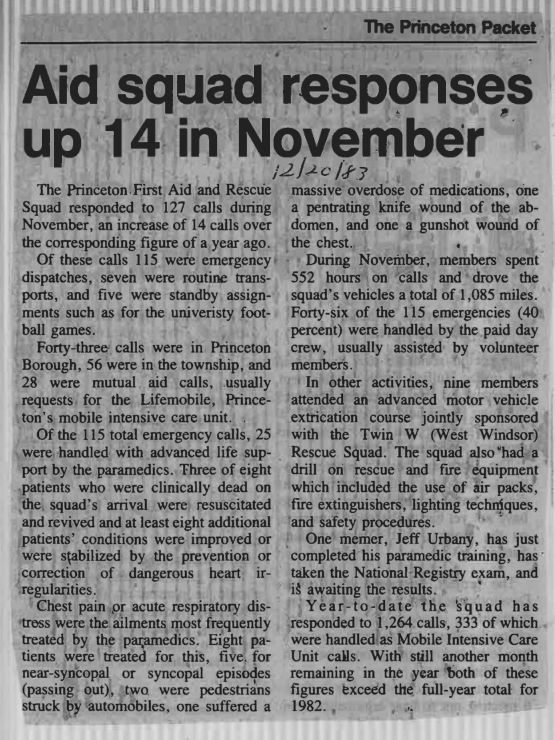 Princeton Packet
20 December 1983
Aid squad responses up 14 in November
The Princeton. First Aid and Rescue Squad responded to 127 calls during November, an increase of 14 calls over the corresponding figure of a year ago.
Of these calls 115 were emergency dispatches, seven were routine transports, and five were standby assignments such as for the university football games.
Forty-three calls were in Princeton Borough, 56 were in the township, and 28 were mutual aid calls, usually requests for the Lifemobile, Princeton's mobile intensive care unit.
Of the 115 total emergency calls, 25 were handled with advanced life support by the paramedics. Three of eight patients who were clinically dead on the squad's arrival were resuscitated and revived and at least eight additional patients' conditions were improved or were stabilized by the prevention or correction of dangerous heart irregularities.
Chest pain pr acute respiratory distress were the ailments most frequently treated by the paramedics. Eight patients were treated for this, five, for near-syncopal or syncopal episodes (passing out), two were pedestrians struck by automobiles, one suffered a massive overdose of medications, one a penetrating knife wound of the abdomen, and one a gunshot wound of the chest.
During November, members spent 552 hours on calls and drove the squad's vehicles a total of 1,085 miles. Forty-six of the 115 emergencies (40 percent) were handled by the paid day crew, usually assisted by volunteer members.
In other activities, nine members attended an advanced motor vehicle extrication course jointly sponsored with the Twin W (West Windsor) Rescue Squad. The squad also had a drill on rescue and fire equipment which included the use of air packs, fire extinguishers, lighting techniques, and safety procedures.
One member, Jeff Urbany, has just completed his paramedic training, has taken the National Registry exam, and is awaiting the results.
Year-to-date the squad has responded to 1,264 calls, 333 of which were handled as Mobile Intensive Care Unit calls. With still another month remaining in the year both of these figures exceed the full-year total for 1982.