27 September, 1985 (~estimated)
All fired up for chili contest
By Brenda R. Woody
Staff Writer
Jim Stives didn't expect to be taking a pot of chili to New York City this weekend for the regional chili cookoff.
"I didn't expect to win," he said modestly. "All they wanted was for me to cook a pot of chili."
But after winning the First Annual Mercer County Firehouse Chili Cookoff at the Hyatt Regency – Princeton on Sept. 20, he decided to be a sport, "What the heck, Why not?"
Mr. Stives won $292 and a silver-plated chili bowl trophy for the Princeton Junction Fire Co. after judges from four area Mexican restaurants and Mercer County Executive Bill Mathesius awarded first prize to his pot of chili.
His winning dish was "an old family recipe, brought over from Ireland," he claimed.
Diners had a chance to judge for themselves. In the Hyatt's centrum, they paid $2 apiece to sample chili and cast votes for their favorite fire company chili chef.
JOE GENOVESE, cook for East Windsor Volunteer Fire Co. No. 1, dressed the part of a senorita, wearing a blond wig and a low-cut striped dress with a gold lame scarf that couldn't conceal his hairy chest.
"What we won't do," the firehouse siren-in-drag lamented.
Mercer Engine Co. No. 3 from Princeton put a "HAZ-MAT" warning label on its chili crock. Hazardous material, assistant chief Ken Rentall explained while juggling his son, Kyle, on his arm, is firemen's terminology for a fire more dangerous than five alarms. HAZ-MAT could contain radioactive or cancer-causing materials,  he warned.
But Ruth Alegria, owner of the Mexican Village restaurant in Princeton. said the clubs she tasted were "not hot enough." Samples of her Vernon was la out for comparison tasters. although ha chili was not eligible for the competition.
And Bill Mathesius wouldn't consider any of the "flavorful" recipes sturdy enough to mend the Harrison Street Bridge. "The bridge is in great shape." he said. "As long as nobody bothers it." To cool the throat after the onion- and jalapeno-laced chili, cold beer and margaritas were on hand.
Those who dared could try an upside-down margarita. which is not the frozen concoction you might expect. The willing victims sat down wrapped in an enormous barber-style bib, threw back their heads (as if for a shave), and a Hyatt Regency "firemen" poured a bottle each of tequila and mixer directly down the hatch. Get it?
THE PRINCETON JUNCTION firefighters claimed their recipe was a winner before the formal judging had even begun.
"We think we've got this in the bag. It's not the hottest. but it's the finest ," Mr. Stives said. "It has a little pizzazz at the end."
Asked if he used any secret ingredients, his fellow firemen said. "We're not saying anything about the rattle snakes or armadillos."
"Tender loving care," chimed in one firefighter who stood ready to fill glasses with ginger ale stored in a genuine fire extinguisher.
"Dedication is the best ingredient." Mr. Stives clarified. "I was up until 1:30 this morning cooking."
Mr. Stives was willing to share his winning recipe, which he calls "Carpenter's Chili," with the note that it is important for each cook to season to taste. since the cayenne pepper sauce is hot
CARPENTER'S CHILI
(5 or 6 servings)
/1/ lb. ground beef
                  /1/ lb. kidney beans, drained
       /1/ lb. peeled tomatoes
  /4/ oz. tomato sauce
                            /1/ Tbsp. chipped or minced garlic
       /1/ Tbsp. onion powder
 /1/ tsp. black pepper
       /1/ tsp. cayenne pepper
                       / 1/2 / oz. cayenne pepper sauce
                  /2/ tsp. Worcestershire sauce
                         /3/ tsp. Mexican hot chili powder
  /2/ tsp. salt (optional)
Cook hamburger,  onion and garlic until brown. Drain, stir in tomato, tomato sauce, chili powder, salt and pepper. Add kidney bean. Cover and simmer for about 30 minutes. Add cayenne pepper and pepper sauce.
Uncover and simmer for another 30 minutes, until chili thickens.
Notes from the chef:
• Wheat flour may be added to reduce thickening time.
• Stir often and always remember to season to taste.
• Remember, pepper sauce is hot
• Good luck
TRENTON FIRE DEPT. CHILI
(makes 5 gallons)
by Ben Pasqua
F.M.B.A
6/6/ lbs. ground chuck
       /3/ lbs. hot Italian sausage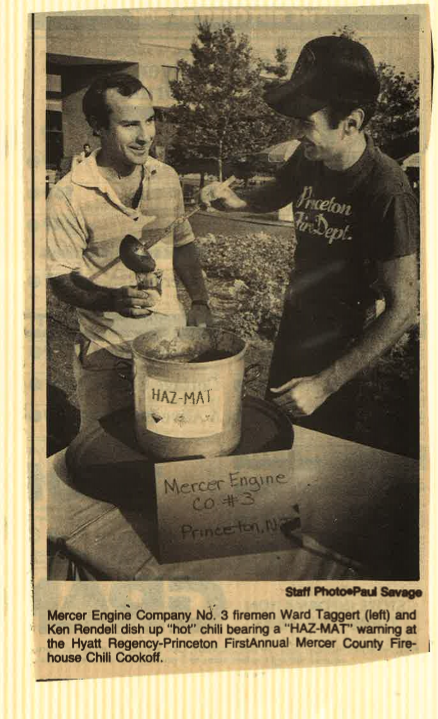 Staff Photo (Paul Savage)
Mercer Engine Company No. 3 firemen Ward Taggert (left) and Ken Rendell dish up "hot" chili bearing a "HAZ-MAT" warning at the Hyatt Regency-Princeton First Annual Mercer County Firehouse Chili Cookoff.