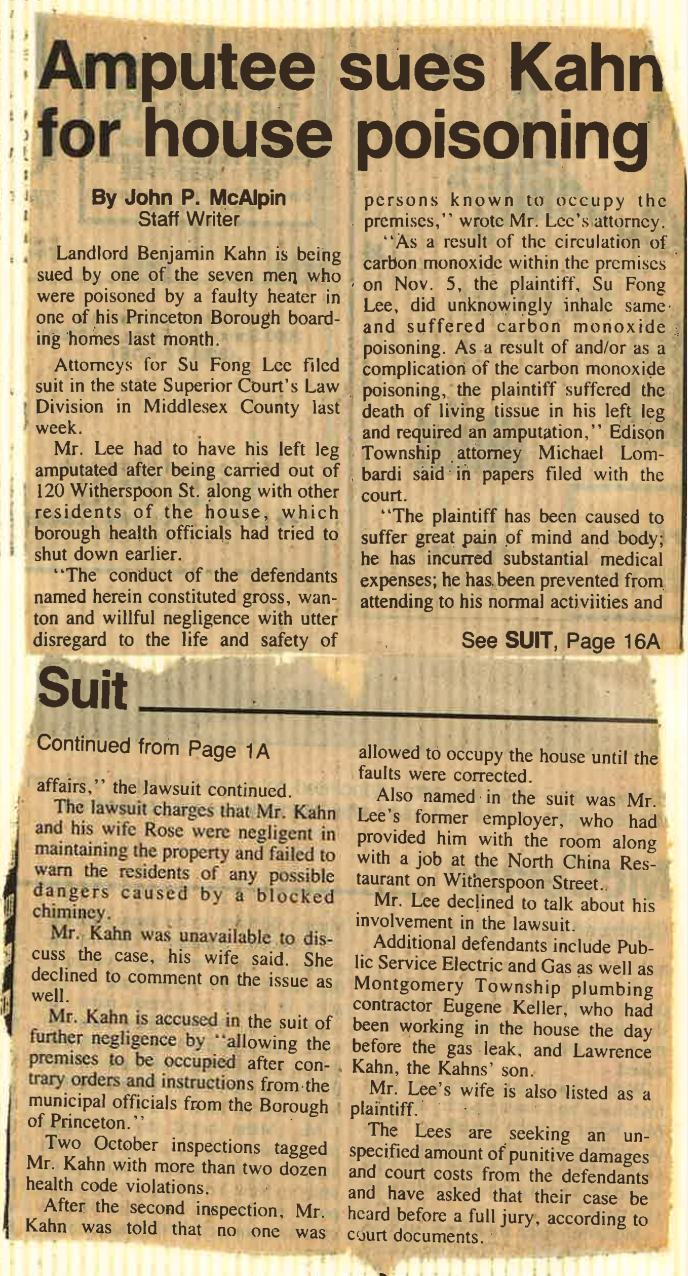 29 November, 1989 (~estimated)
Amputee Sues Kahn for house poisoning
By John P. McAlpin
Staff Writer
Landlord Benjamin Kahn is being sued by one of the seven men who were poisoned by a faulty heater in one of his Princeton Borough boarding homes last month.
Attorneys for Su Fong Les fled suit in the state Superior Court's Law Division in Middlesex County last week.
Mr. Lee had to have his left leg amputated after being carried out of 120 Witherspoon St. along with other residents of the house, which borough health officials had tried to that down earlier.
"The conduct of the defendants named herein constituted gross, wanton and willful negligence with utter disregard to the life and safety of persons known to occupy the premise," wrote Mr. Lee's attorney.
"As a result of the circulation of carbon monoxide within the premises on Nov. 5, the plaintiff, Su Fong Lee, did unknowingly inhale same and suffered carbon monoxide poisoning. As a result of and/or as a complication of the carbon monoxide poisoning, the plaintiff suffered the death of living tissue in his left leg and required an amputation," Edison Township attorney Michael Lombardi said in papers filed with the court.
"The plaintiff has been caused to suffer great pain of mind and body; he has incurred substantial medical expenses; he has been prevented from attending to his normal activities and affairs," the lawsuit continued.
The lawsuit charges that Mr. Kahn and his wife Rose were negligent in maintaining the property and failed to warn the residents of any possible dangers caused by a blocked chimney.
Mr. Kahn was unavailable to discuss the case, his wife said. She declined to comment on the issue as well.
Mr. Kahn is accused in the suit of further negligence by "allowing the premises to be occupied after contrary orders and instructions from the municipal officials from the Borough of Princeton."
Two October inspections tagged Mr. Kahn with more than two dozen health code violations.
After the second inspection, Mr. Kahn was told that no one was allowed to occupy the house until the faults were corrected.
Also named in the suit was Mr. Lee's former employer, who had provided him with the room along with a job at the North China Restaurant on Witherspoon Street.
Mr. Lee declined to talk about his involvement in the lawsuit.
Additional defendants include Public Service Electric and Gas as well as Montgomery Township plumbing contractor Eugene Keller, who had been working in the house the day before the gas leak, and Lawrence Kahn, the Kahns' son.
Mr. Lee's wife is also listed as a plaintiff.
The Lees are seeking an unspecified amount of punitive damages and court costs from the defendants and have asked that their case be heard before a full jury, according to court documents.