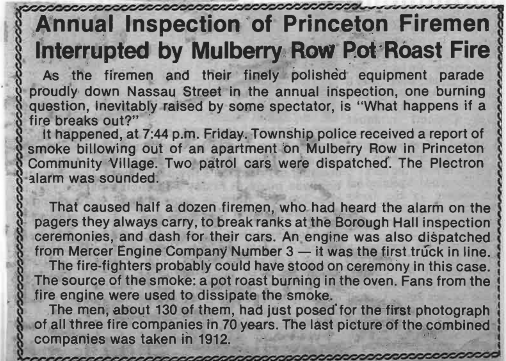 30 June 1982
(date estimated)
Annual Inspection of Princeton Firemen Interrupted by Mulberry Row Pot Roast Fire
As the firemen and their finely polished equipment parade proudly down Nassau Street in the annual inspection, one burning question, Inevitably raised by some spectator, is "What happens if a fire breaks out?"
It happened, at 7:44 p.m. Friday, Township police received a report of smoke billowing out of an apartment on Mulberry Row in Princeton Community Village. Two patrol cars were dispatched'. The Plectron -alarm was sounded.
That caused half a dozen firemen, who had heard the alarm on the pagers they always carry, to break ranks at the Borough Hall inspection ceremonies, and dash for their cars. An engine was also dispatched from Mercer Engine Company Number 3 — it was the first truck in line.
The fire-fighters probably could have stood on ceremony in this case. The source of the smoke: a pot roast burning in the oven. Fans from the fire engine were used to dissipate the smoke.
The men, about 130 of them, had just posed'for the first photograph of all three fire companies in 70 years. The last picture of the combined companies was taken in 1912.