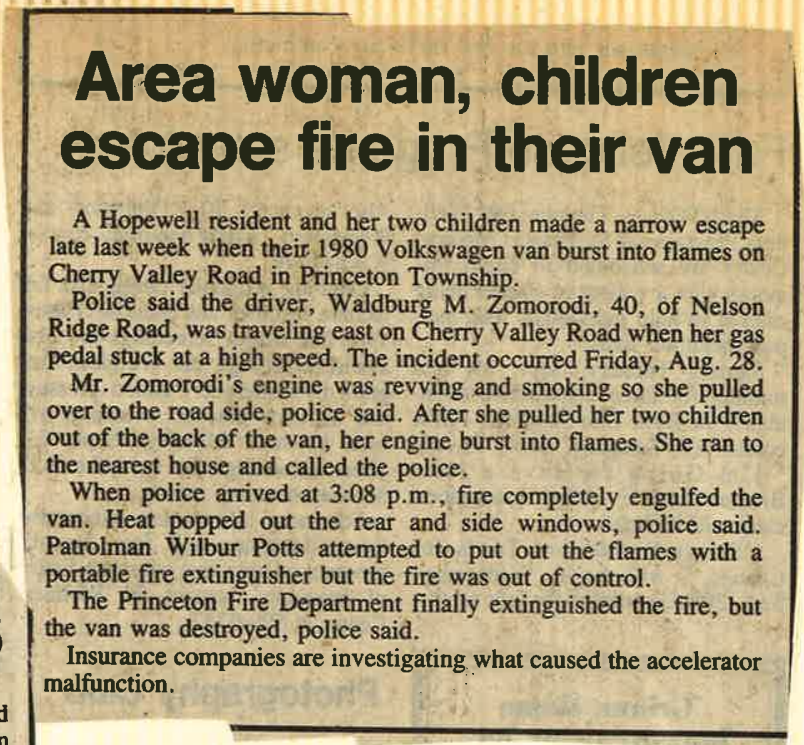 2 September, 1987
Area woman, children escape fire in their van
A Hopewell resident and her two children made a narrow escape late last week when their 1980 Volkswagen van burst into flames on Cherry Valley Road in Princeton Township.
Police said the driver, Waldburg M. Zomorodi, 40, of Nelson Ridge Road. was traveling east on Cherry Valley Road when her gas pedal stuck at a high speed. The incident occurred Friday, Aug. 28.
Mr. Zomorodi's engine was revving and smoking so she pulled over to the road side, police said. After she pulled her two children out of the back of the van, her engine burst into flames. She ran to the nearest house and called the police.
When police arrived at 3:08 p.m., fire completely engulfed the van. Heat popped out the rear and side windows, police said. Patrolman Wilbur Potts attempted to put out the flames with a portable fire extinguisher but the fire was out of control.
The Princeton Fire Department finally extinguished the fire, but the van was destroyed, police said.
Insurance companies are investigating what caused the accelerator malfunction.