Princeton Packet
29 April, 1988
Auxiliary, a town tradition, supports our firefighters
The Ladies Auxiliary of Engine Co. No. I, located on Chestnut Street, is sponsoring a pancake breakfast on Sunday, 8 a.m. to 2 p.m. Formed in February 1959, this group is the only auxiliary remaining of Princeton's three fire companies and has 38 members, ranging in age from 18 to 71 years. Three of its members, Marge Davison, Shirley Cashill, and Teresa Cupples are charter members. Membership is open to all women, although traditionally most are wives, mothers, daughters or sisters of firefighters from No. 1.
The auxiliary meets the first Thursday of each month. Activities include organizing rummage sales, catering weddings and banquets, planning fundraising events, and providing support to the auxiliary of the First Aid and Rescue Squad at the scene of a fire. At the recent fire at the University's Terrace Club, the Emergency Committee spent many hours providing hot coffee, cold drinks, and food for the firemen at the scene and again at the firehouse following the fire.
The most recent undertaking of the auxiliary was the formation of a marching unit to take part in competitive marching parades throughout the area. In their very first competition at the Monmouth Junction Parade last July, they won second place for Best Appealing Ladies Auxiliary. In their second appearance in the Fire Prevention Parade in Hamilton, they won first place for the Best Appearing Fire Department with a Ladies Auxiliary.
According to their current President, Michele Ryan, these women are some of the finest women one could have the pleasure of knowing. They volunteer thier time willingly, but most of all they are part of a dying breed in Princeton. Most were born here, raised here, and still work here and the tradition of family and caring about thier community and thier firemen is what makes them unique.
"They are the real Princeton — make no mistake about it. When we march down Nassau Street on May 14 as part of the fire department's Bicentennial, a whole lot of the old Princeton tradition will march with us – our fathers, grandfathers, and husbands — that's what it's really is about.
---
Firemen slate open house
On Saturday, as part of the Bicentennial Celebration of the Princeton Fire Department, Paine Webber is sponsoring open houses from noon to 4 p.m. at the Princeton Hook and Ladder Company, 27 North Harrison Street, and Mercer Engine Company No.3 St. All equipment and apparatus will be available for inspection and tours of the firehouse are offered. Children are welcome and refreshments will be served.
---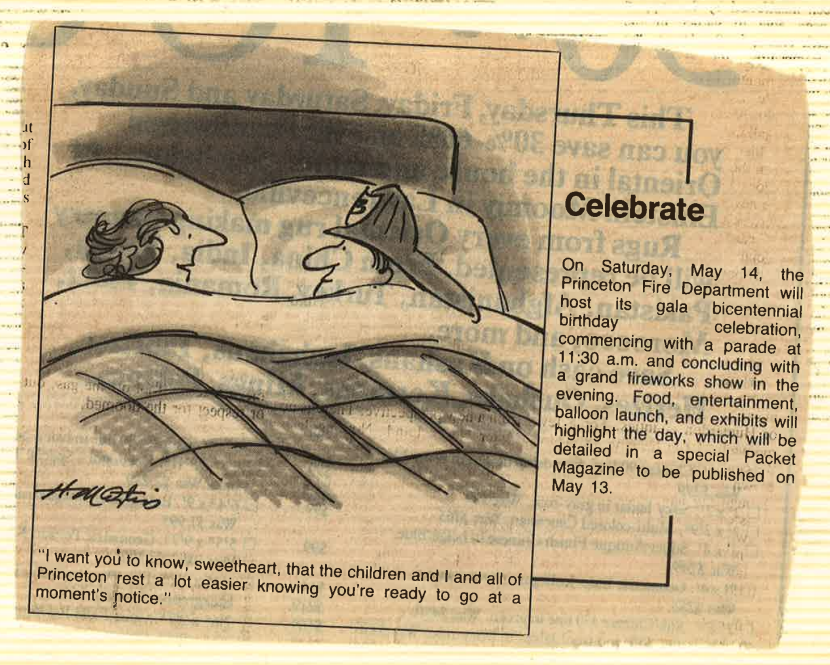 "I want you to know, sweetheart, that the children and I and all of Princeton rest a lot easier knowing you're ready to go at a moment's notice."
CELEBRATE
On Saturday, May 14, the Princeton Fire Department will host its gala bicentennial birthday celebration commencing with a parade at 11:30 a.m. and concluding with a grand fireworks show in the evening. Food, entertainment, balloon launch, and exhibits will highlight the day, which will be detailed in a special Packet Magazine to be published on May 13.