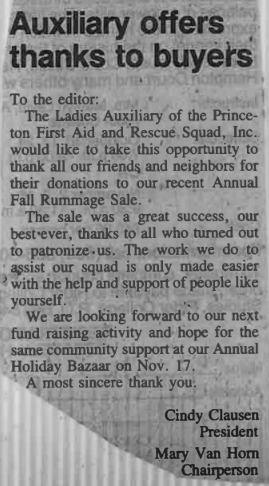 1 September, 1984
Auxiliary offers thanks to buyers
To the editor:
The Ladies Auxiliary of the Princeton First Aid and Rescue Squad, Inc. would like to take this opportunity to thank all our friends and neighbors for their donations to our recent Annual Fall Rummage Sale.
The sale was a great success, our best ever, thanks to all who turned out to patronize us. The work we do to assist our squad is only made easier with the help and support of people like yourself.
We are looking forward to our next fund raising activity and hope for the same community support at our Annual Holiday Bazaar on Nov. 17.
A most sincere thank you.
Cindy Clausen, President
Mary Van Horn, Chairperson