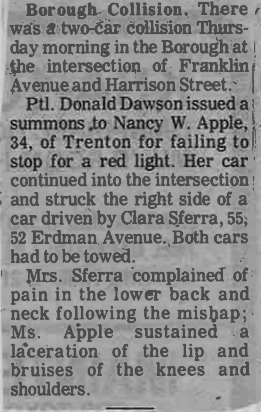 12 October, 1984 (date estimated)
Borough Collision
There was a two-car collision Thursday morning in the Borough at the intersection of Franklin Avenue and Harrison Street.
Ptl. Donald Dawson issued a summons to Nancy W. Apple, 34, of Trenton for failing to stop for a red light. Her car continued into the intersection and struck the right side of a car driven by Clara Sferra, 55, 52 Erdman Avenue. Both cars had to be towed.
Mrs. Sferra complained of pain in the lower back and neck following the mishap; Ms. Apple sustained a laceration of the lip and bruises of the knees and shoulders.