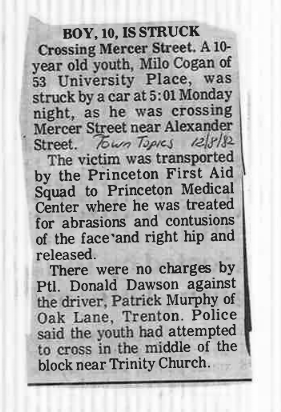 Town Topics
8 December 1982
Boy, 10, is struck
Crossing Mercer Street. A 10- year old youth, Milo Cogan of 53 University Place, was struck by a car at 5:01 Monday night, as he was crossing Mercer Street near Alexander Street.
The victim was transported by the Princeton First Aid Squad to Princeton Medical Center where he was treated for abrasions and contusions of the face and right hip and released.
There were no charges by Ptl. Donald Dawson against the driver. Patrick Murphy of Oak Lane, Trenton. Police said the youth had attempted to cross in the middle of the block near Trinity Church.