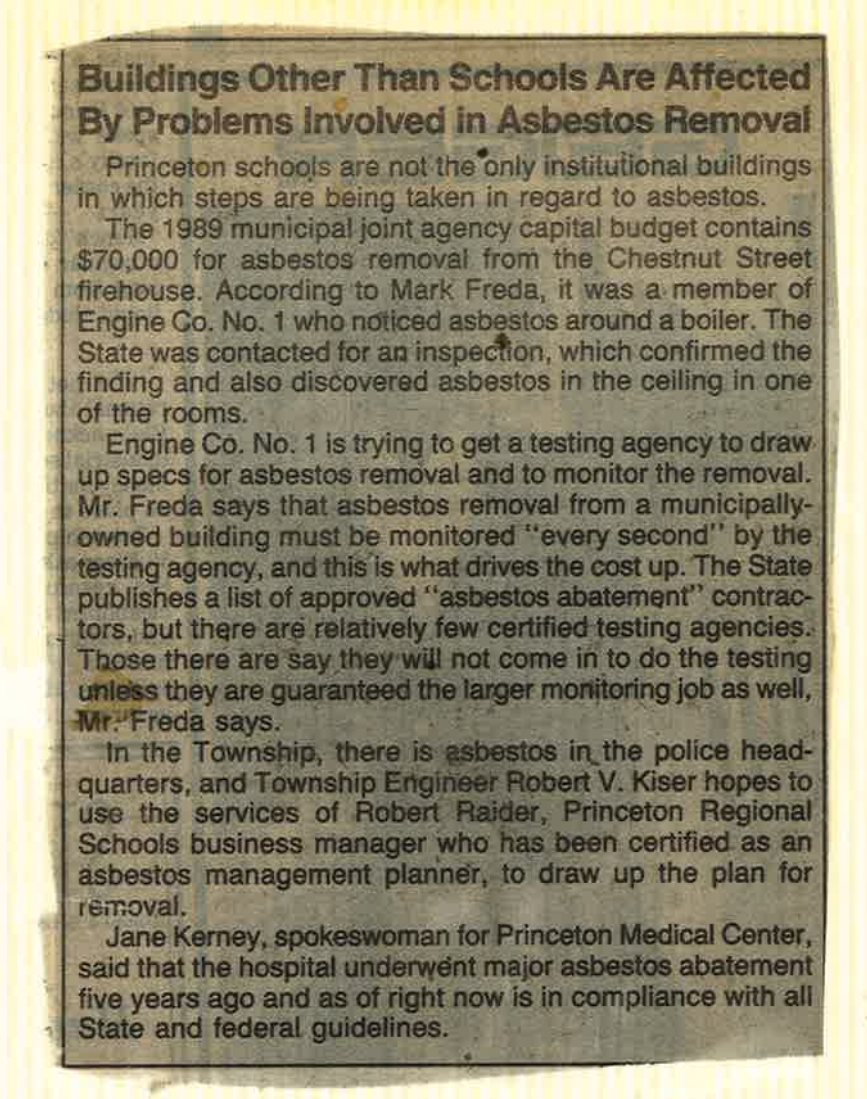 17 March, 1989 (~estimated)
Buildings Other Than Schools Are Affected By Problems Involved in Asbestos Removal
Princeton schools are not the only institutional buildings in which steps are being taken in regard to asbestos.
The 1989 municipal joint agency capital budget contains $70,000 for asbestos removal from the Chestnut Street firehouse. According to Mark Freda, it was a member of Engine Co. No. 1 who noticed asbestos around a boiler. The State was contacted for an inspection, which confirmed the finding and also discovered asbestos in the ceiling in one of the rooms.
Engine Co. No. 1 trying to get a testing agency to draw up specs for asbestos removal and to monitor the removal. Mr. Freda says the asbestos removal from a municipally-owned building must be monitored "every second" by the testing agency, and this is what drives the cost up. The State publishes a list of approved "asbestos abatement" contractors, but there are relatively few certified testing agencies. Those there are say they will not come in to do the testing unless they are guaranteed the larger monitoring job as well, Mr. Freda says.
In the Township, there is asbestos in the police headquarters, and Township Engineer Robert V. Kiser hopes to use the services of Robert Raider, Princeton Regional Schools business manager who has been certified as an asbestos management planner, to draw up the plan for removal.
Jane Kerney, spokeswoman for Princeton Medical Center, said that the hospital underwent major asbestos abatement five years ago and as of right now is in compliance with all State and federal guidelines.