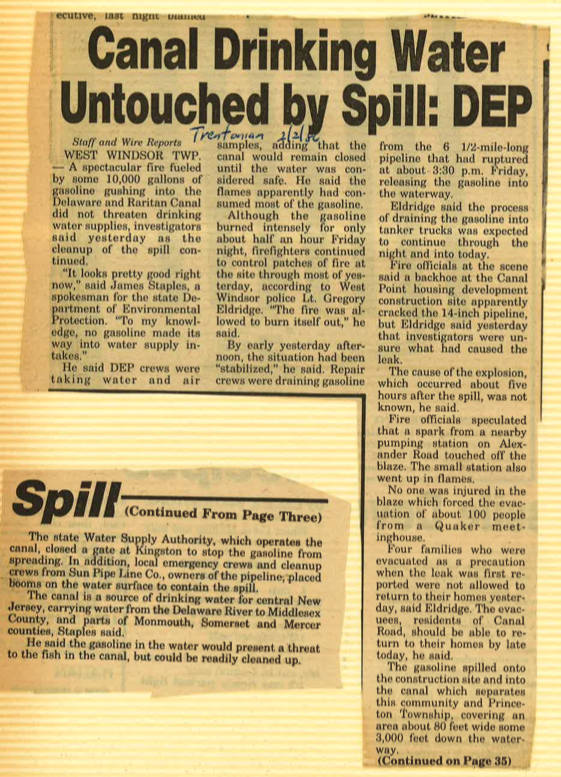 The Trentonian
28 February, 1986
Canal Drinking Water Untouched by Spill: DEP
Staff and Wire Reports
WEST WINDSOR TWP. — A spectacular fire fueled by some 10,000 gallons of gasoline gushing into the Delaware and Raritan Canal did not threaten drinking water supplies, investigators said yesterday as the cleanup of the spill continued.
"It looks pretty good right now," said James Staples, a spokesman for the state Department of Environmental Protection. "To my knowledge, no gasoline made its way into water supply in-takes."
He said DEP crews were taking water and air samples, adding that the canal would remain closed until the water was considered safe. He said the flames apparently had consumed most of the gasoline.
Although the gasoline burned intensely for only about half an hour Friday night, firefighters continued to control patches of fire at the site through most of yesterday, according to West Windsor police Lt. Gregory Eldridge. "The fire was allowed to burn itself out," he said.
By early yesterday after-noon, the situation had been "stabilized," he said. Repair crews were draining gasoline from the 6 1/2-mile-long pipeline that had ruptured at about 3:30 p.m. Friday, releasing the gasoline into the waterway.
Eldridge said the process of draining the gasoline into tanker trucks was expected to continue through the night and into today.
Fire officials at the scene said a backhoe at the Canal Point housing development construction site apparently cracked the 14-inch pipeline, but Eldridge said yesterday that investigators were unsure what had caused the leak.
The cause of the explosion, which occurred about five hours after the spill, was not known, he said.
Fire officials speculated that a spark from a nearby pumping station on Alexander Road touched off the blaze. The small station also went up in flames.
No one was injured in the blaze which forced the evacuation of about 100 people from a Quaker meetinghouse.
Four families who were evacuated as a precaution when the leak was first re-ported were not allowed to return to their homes yesterday, said Eldridge. The evacuees, residents of Canal Road, should be able to re-turn to their homes by late today, he said.
The gasoline spilled onto the construction site and into the canal which separates this community and Princeton Township, covering an area about 80 feet wide some 3,000 feet down the water-way.
The state Water Supply Authority, which operates the canal, closed a gate at Kingston to stop the gasoline from spreading. In addition, local emergency crews and cleanup crews from Sun Pipe Line Co., owners of the pipeline, placed booms on the water surface to contain the spill.
The canal is a source of drinking water for central New Jersey, carrying water from the Delaware River to Middlesex County, and parts of Monmouth, Somerset and Mercer counties, Staples said.
He said the gasoline in the water would present a threat to the fish in the canal, but could be readily cleaned up.