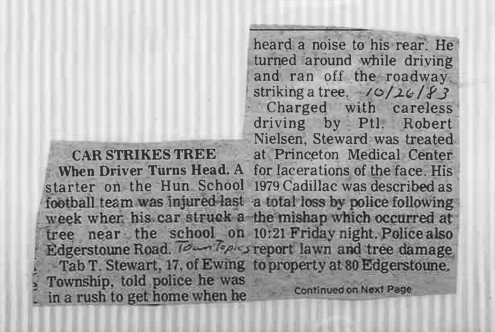 Town Topics
26 October 1983
Car strikes tree
CAR STRIKES TREK When Driver Turns Head. A starter on the Hun School football team was injured-last week when his.car struck a tree near the school on Edgerstoune Road.
Tab T. Stewart, 17. of Ewing Township, told police he was in a rush to get home when he heard a noise to his rear. He turned around while driving and ran off the roadway, striking a tree.
Charged with careless driving by Ptl. Robert Nielsen. Steward was treated at Princeton Medical Center for lacerations of the face. His 1979 Cadillac was described as a total loss by police following the mishap which occurred at 10:21 Friday night. Police also report lawn and tree damage to property at 80 Edgerstoune.
Continued on Next Page