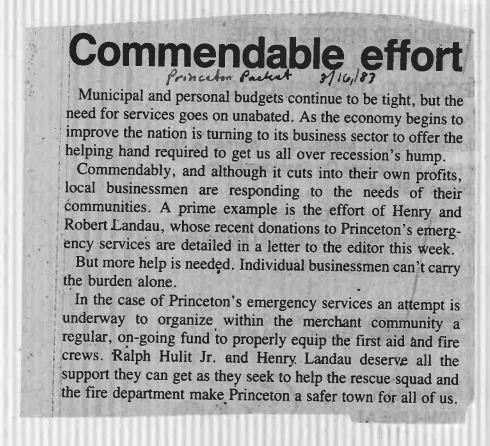 Princeton Packet
16 March 1983
Commendable effort
Municipal and personal budgets continue to be tight, but the need for services goes on unabated. As the economy begins to improve the nation is turning to its business sector to offer the helping hand required to get us all over recession's hump.
Commendably, and although it cuts into their own profits, local businessmen are responding to the needs of their communities. A prime example is the effort of Henry and Robert Landau, whose recent donations to Princeton's emergency services are detailed in a letter to the editor this week.
But more help is needed. Individual businessmen can't carry the burden alone.
In the case of Princeton's emergency services an attempt is underway to organize within the merchant community a regular, on-going fund to properly equip the first aid and fire crews. Ralph Hulit Jr. and Henry Landau deserve all the support they can get as they seek to help the rescue squad and the fire department make Princeton a safer town for all of us.