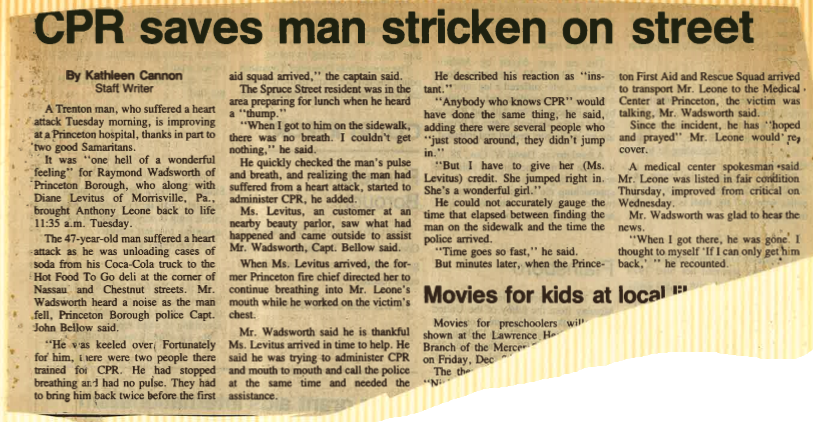 6 December, 1985 (~estimated)
CPR saves a man stricken on street
By Kathleen Cannon
Staff Writer
A Trenton man, who suffered a heart attack Tuesday morning, is improving at a Princeton hospital, thanks in part to two good Samaritans.
It was "one hell of a wonderful feeling" for Raymond Wadsworth of Princeton Borough, who along with Diane Levitus of Morrisville, Pa., brought Anthony Leone back to life 11:35 a.m. Tuesday.
The 47-year-old man suffered a heart attack as he was unloading cases of soda from his Coca-Cola truck to the Hot Food To Go deli at the corner of Nassau and Chestnut streets. Mr. Wadsworth heard a noise as the man fell, Princeton Borough police Capt. John Bellow said.
"He was keeled over. Fortunately for him, there were two people there trained for CPR. He had stopped breathing and had no pulse. They had to bring him back twice before the first aid squad arrived," the captain said.
The Spruce Street resident was in the area preparing for lunch when he heard a "thump."
When I got to him on the sidewalk, there was no breath. I couldn't get nothing," he said.
He quickly checked the man's pulse and breath, and realizing the man had suffered from a heart attack, started to administer CPR, he added.
Ms. Levitus, an customer at an nearby beauty parlor, saw what had happened and came outside to assist Mr. Wadsworth, Capt. Bellow said.
When Ms. Levitus arrived, the former Princeton fire chief directed her to continue breathing into Mr. Leone's mouth while he worked on the victim's chest.
Mr. Wadsworth said he is thankful Ms. Levitus arrived in time to help. He said he was trying to administer CPR and mouth to mouth and call the police at the same time and needed the assistance.
He described his reaction as "instant."
Anybody who knows CPR" would have done the same thing, he said, adding there were several people who "just stood around, they didn't jump in."
But I have to give her (Ms. Levitus) credit. She jumped right in. She's a wonderful girl."
He could not accurately gauge the time that elapsed between finding the man on the sidewalk and the time the police arrived.
"Time goes so fast," he said.
But minutes later, when the Princeton First Aid and Rescue Squad arrived to transport Mr. Leone to the Medical Center at Princeton, the victim was talking, Mr. Wadsworth said.
Since the incident, he has "hoped and prayed" Mr. Leone would recover.
A medical center spokesman said Mr. Leone was listed in fair condition Thursday, improved from critical on Wednesday. Mr. Wadsworth was glad to hear the news.
"When I got there, he was gone. I thought to myself  'If I can only set him  back,' " he recounted.