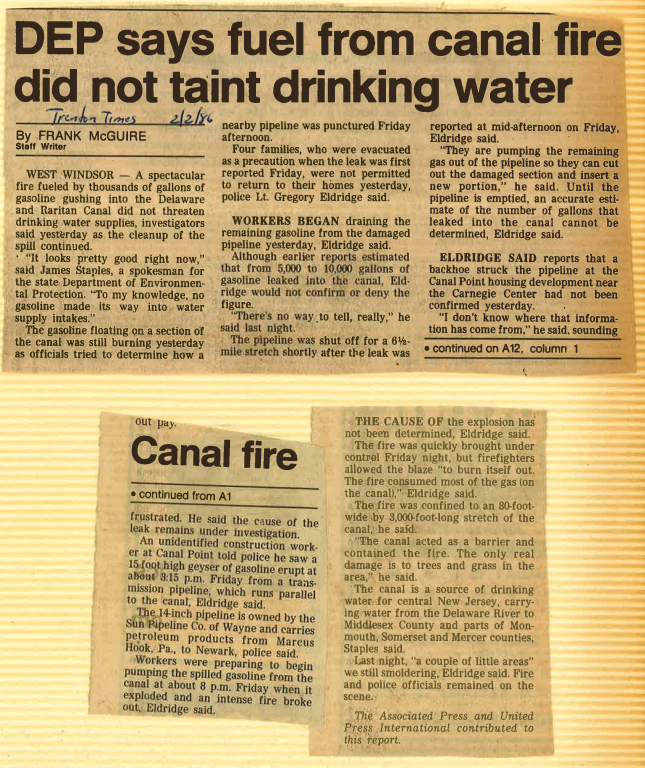 Trenton Times
2 February, 1986 
DEP says fuel from canal fire did not taint drinking water 
By FRANK McGUIRE
 Staff Writer 
WEST WINDSOR — A spectacular fire fueled by thousands of gallons of gasoline gushing Into the Delaware and Raritan Canal did not threaten drinking water supplies, investigators said yesterday as the cleanup of the spill continued. • 
It looks pretty good right now," said James Staples, a spokesman for the state Department of Environmental Protection. "To my knowledge, no gasoline made its way into water supply intakes."
The gasoline floating on a section of the canal was still burning yesterday as officials tried to determine how a nearby pipeline was punctured Friday afternoon.
Four families, who were evacuated as a precaution when the leak was first reported Friday, were not permitted to return to their homes yesterday, police Lt. Gregory Eldridge said. 
WORKERS BEGAN draining the remaining gasoline from the damaged pipeline yesterday, Eldridge said. Although earlier reports estimated that from 5,000 to 10,000 gallons of gasoline leaked Into the canal, Eldridge would not confirm or deny the figure.
"There's no way to tell, really," he said last night.
The pipeline was shut off for a 6½ mile stretch shortly after the leak was reported at mid-afternoon on Friday, Eldridge said.
"They are pumping the remaining gas out of the pipeline so they can cut out the damaged section and insert a new portion," he said. Until the pipeline is emptied, an accurate estimate of the number of gallons that leaked into the canal cannot be determined, Eldridge said. 
ELDRIDGE SAID reports that a backhoe struck the pipeline at the Canal Point housing development near the Carnegie Center had not been confirmed yesterday. 
"I don't know where that information has come from," he said, sounding frustrated. He said the cause of the leak remains under investigation.
An unidentified construction worker at Canal Point told police he saw a 15-foot high geyser of gasoline erupt at about 3:15 p.m. Friday from a transmission pipeline, which runs parallel to the canal, Eldridge said.
The 14-inch pipeline is owned by the Sun Pipeline Co. of Wayne and carries petroleum products from Marcus Hook, Pa., to Newark, police said. Workers were preparing to begin pumping the spilled gasoline from the canal at about 8 p.m. Friday when it exploded and an intense fire broke out, Eldridge said. 
THE CAUSE OF the explosion has not been determined, Eldridge said. The fire was quickly brought under control Friday night, but firefighters allowed the blaze "to burn itself out. The fire consumed most of the gas (on the canal)," Eldridge said.
The fire was confined to an 80-foot-wide by 3,000 foot-long stretch of the canal, he said. 
"The canal acted as a barrier and contained the fire. The only real damage is to trees and grass in the area," he said.
The canal is a source of drinking water for central New Jersey, carrying water from the Delaware River to Middlesex County and parts of Monmouth, Somerset and Mercer counties, Staples said.
Last night, "a couple of little areas" were still smoldering, Eldridge said. Fire and police officials remained on the scene. 
The Associated Press and United Press International contributed to this report.