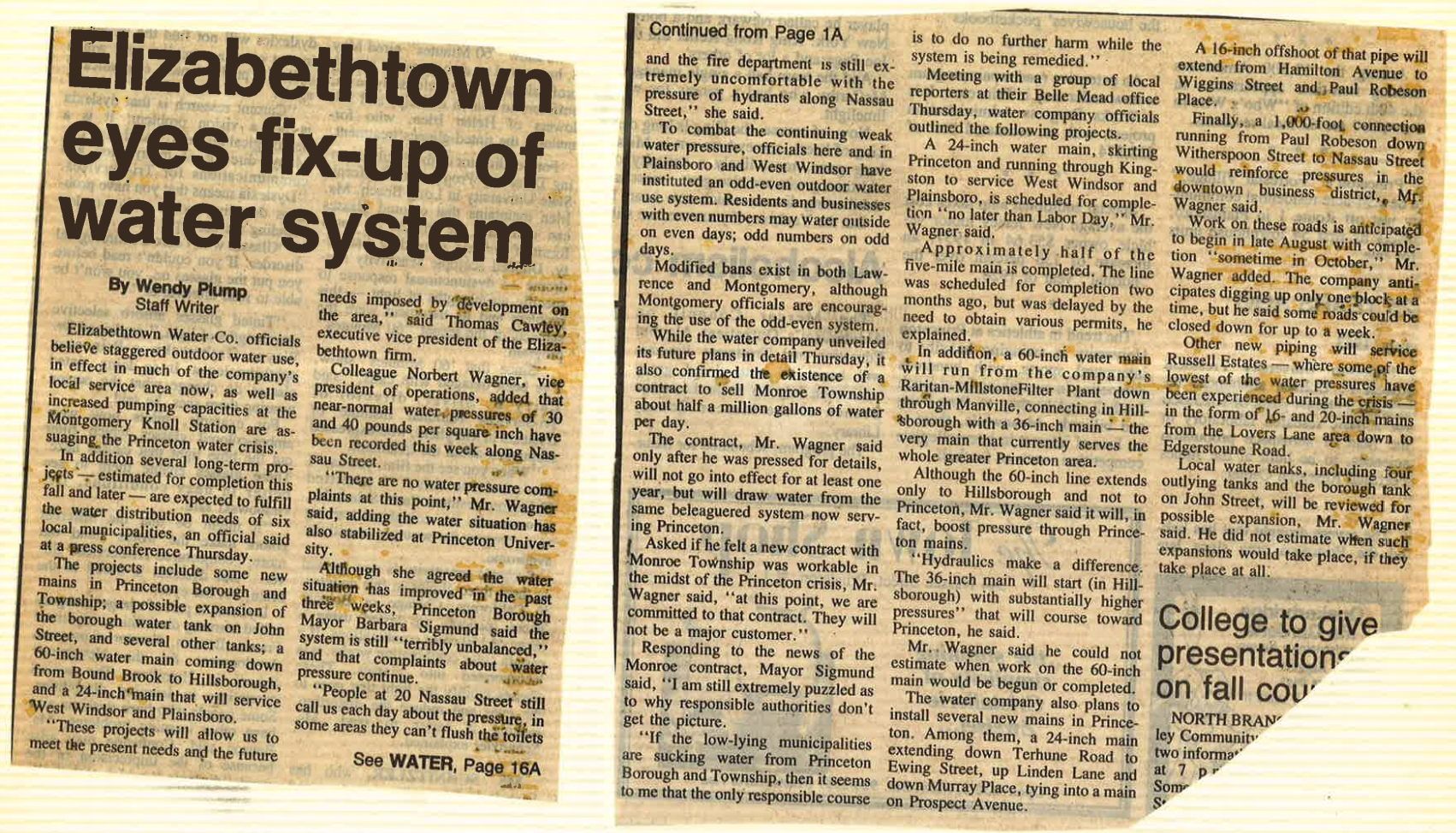 12 July, 1988
Elizabethtown eyes fix-up of water system
By Wendy Plump
Staff Writer
Elizabethtown Water Co. officials believe staggered outdoor water use, in effect in much of the company's local service area now, as well as increased pumping capacities at the Montgomery Knoll Station are assuaging the Princeton water crisis.
In addition several long term projects,- estimated for completion this fall and later — are expected to fulfill the water distribution needs of six local municipalities, an official said at a press conference Thursday.
The projects include some new mains in Princeton Borough and Township; a possible expansion of the borough water tank on John Street, and several other tanks; a 60 inch water main coming down from Bound Brook to Hillsborough, and a 24-inch water main that will service West Windsor and Plainsboro.
"These projects will allow as to meet the present needs and the future needs imposed by  development on the idea," said Thomas Cawley, executive vice president of the Elizabethtown firm.
Colleague Norbert Wagner, vice president of operations added that near-normal water, pressures of 30 and 40 pounds per squalls inch have been recorded this week along Nassau Street.
"There are no water pressure coin-plaints at this point, Mr. Wagner said, adding the water situation has also stabilized at Princeton University.
Although she agreed the water situation has improved in the past three weeks. Princeton Borough Mayor Barbara Sigmund said the system is still "terribly unbalanced," and that complaints about warn pressure continue.
"People at 20 Nassau Street still call as each day about the pressures, in some areas they can't flush the toilets and the fire department is still extremely uncomfortable with the pressure of hydrants along Nassau Street." she said.
To combat the continuing weak water pressure, officials here and in Plainsboro and West Windsor have instituted an off even outdoor water system. Residence and businesses with even numbers may water outside on even days odd numbers on odd days.
Modified bans exist in both Lawrence and Montgomery, although Montgomery officials are encouraged. ins the one of the odd-even system. While the water company unveiled its forum plans in detail Thursday, it also confirmed the existence of a contract to 'sell Monroe Township about half a million gallons of water per day.
The contract, Mr. Wagner said only after he was pressed for details, will not go into effect for at least one year, but will dmw water from the same beleaguered system now serv-ing Princeton. I
Asked if he felt a new contract with Monroe Township was workable in the midst of the Princeton crisis, Mr. Wagner said, at this point, wc are committed to that contract. They will not be a major customer."
Responding to the news of the Monroe contract. Mayor Sigmund said, "I am still extremely punted as to why responsible authorities don't get the picture.
"If the low-lying municipalities :ire sucking water from Princeton Borough and Township, then it seems to me that the only responsible course is to do no further harm while the system is being remedied "
Meeting with a group of local responders at their Belle Mead office Thursday. water company officials outlined the following projects.
A 24 inch water main, skirting Princeton and running through Kingston to service West Windsor and Plainsboro. 0 scheduled for completion "no later than Labor Day," Mr. Wagner said.
Approximately half of the five-rode main's completed. The line was scheduled for completion Iwo months ago, but was delayed by the need to obtain various permits, he explained.
In addition, a 60-inch water new Will run from the company's Raritan-MdIstoneFilter Plant down through Manville, connecting in Hill-ebomugh with a 36-inch main the very main that currently serves the whole greater Princeton area.
Although the 60-inch line extends only to Hillsborough and not to Princeton, Mr. Wagner said it will, In fact, boost pressure through Princeton mains.
"Hydraulics make a difference. The 36-Mch main will start (in Hillsborough) with substantially higher pressures" that will course toward Princeton. he said.
Mr. Wagner said he could not estimate when work on the 60-inch main would be begun or completed.
The water company also plans to install several new mains in Princeton. Among them, a 24-inch main extending down Terhune Road to Ewing Street, up Linden Lane and down Murray Place, tying into a main on Prospect Avenue.