Trentonian
28 January 1981
(date estimated)
‬‭ ‬PRINCETON BLAZE — Township firemen last night survey the burned-out second floor of the home owned by Investment banker Frank Petito on Lambert Drive in Princeton Township. The blaze is under investigation, and the home is in the process of being sold. See story on Page 53.
Trentonian Photo By STEVE MERVISH
---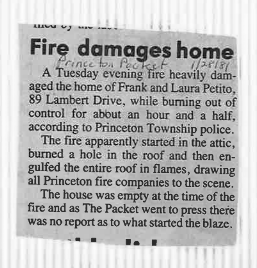 Princeton Packet
28 January 1981
Fire Damages Home
A Tuesday evening fire heavily damaged the home of Frank and Laura Petito, 89 Lambert Drive, while burning out of control for about an hour and a half, according to Princeton Township police.
The fire apparently started in the attic, burned a hole in the roof and then engulfed the entire roof in flames, drawing all Princeton fire companies to the scene.
The house was empty at the time of the fire and as The Packet went to press there was no report as to what started the blaze.