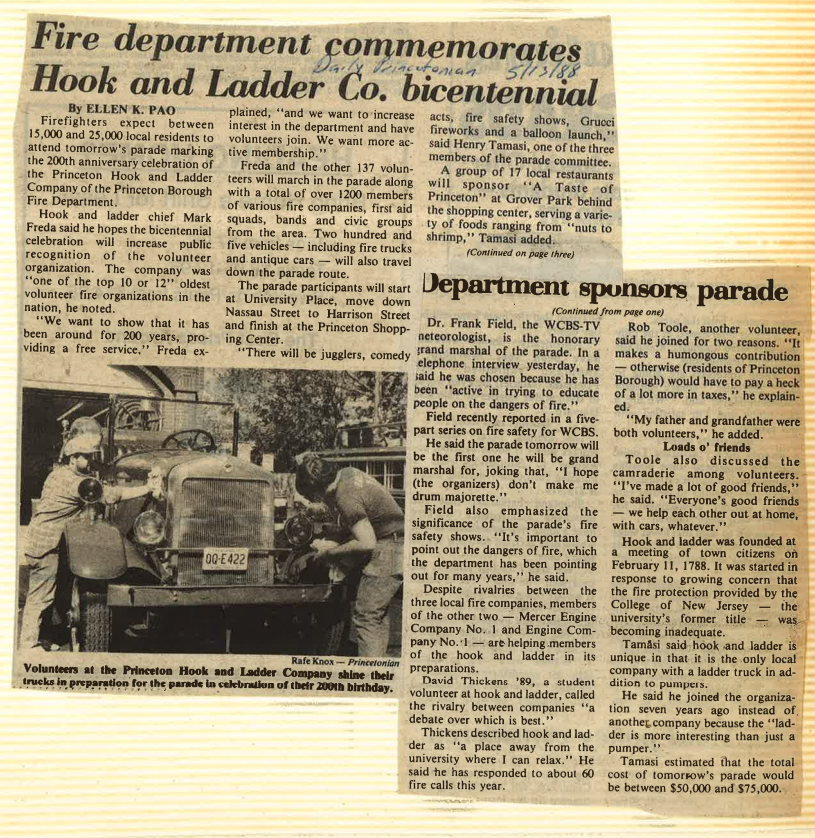 Daily Princetonian
13 May, 1988
Fire department commemorates Hook and Ladder Co. bicentennial
Firefighters expect between 15,000 and 25,000 local residents to attend tomorrow's parade marking the 200th anniversary celebration of the Princeton Hook and Ladder Company of the Princeton Borough Fire Department.
Hook and ladder chief Mark Freda said he hopes the bicentennial celebration will increase public recognition of the volunteer organization. The company was "one of the top 10 or 12" oldest volunteer fire organizations in the nation, he noted.
"We want to show that it has been around for 200 years, providing a free service." Freda explained, "and we want to increase interest in the department and have volunteers join. We want more active membership."
Freda and the other 137 volunteers will march in the parade along with a total of over 1200 members of various fire companies, first aid squads, bands and civic groups from the area. Two hundred and five vehicles — including fire trucks and antique cars — will also travel down the parade route.
The parade participants will start at University Place, move down Nassau Street to Harrison Street and finish at the Princeton Shopping Center.
"There will be jugglers, comedy acts, lire safely shows, Grucci fireworks and a balloon launch," said Henry Tamasi, one of the three members of the parade committee.
A group of 17 local restaurants will sponsor "A Taste of Princeton" at Grover Park behind the shopping center, serving a variety of foods ranging from "nuts to shrimp," Tamasi added.
Dr. Frank Field, the WCBS-TV meteorologist, is the honorary ;rand marshal of the parade. In a telephone interview yesterday, he said he was chosen because he has men "active in trying to educate people on the dangers of fire."
Field recently reported in a five-part series on fire safety for WCBS.
He said the parade tomorrow will be the first one he will be grand marshal for, joking that, "I hope (the organizers) don't make me drum majorette."
Field also emphasized the significance of the parade's fire safety shows. "It's important to point out the dangers of fire, which the department has been pointing put for many years," he said.
Despite rivalries between the three local fire companies, members of the other two — Mercer Engine Company No. I and Engine Company No; I – are helping members of the hook and ladder in its preparations.
David Thickens '89, a student volunteer at hook and ladder, called the rivalry between companies "2 debate over which is best."
Thickens described hook and ladder as "a place away from tht university where I can relax." He said be has responded to about 60 firec calls this year.
Rob Toole, another volunteer, said he joined for two reasons. "It makes a humongous contribution — otherwise (residents of Princeton Borough) would have to pay a heck of a lot more in taxes," he explained.
"My father and grandfather were both volunteers," he added.
Loads o' friends
Toole also discussed the camaraderie among volunteers. "I've made a lot of good friends," he said. "Everyone's good friends — we help each other out at home, with cars, whatever."
Hook and ladder was founded at a meeting of town citizens on February II, 1788. It was started in response to growing concern that the fire protection provided by the College of New Jersey — the university's former title — was inadequate.
Tamasi said hook and ladder is unique in that it is the only local company with a ladder truck in addition to pumpers.
He said he joined the organization seven years ago instead of another company because the "ladder is more interesting than just a pumper."
Tamasi estimated that the total cost of tomorrow's parade would be between $50,000 and $75,000.