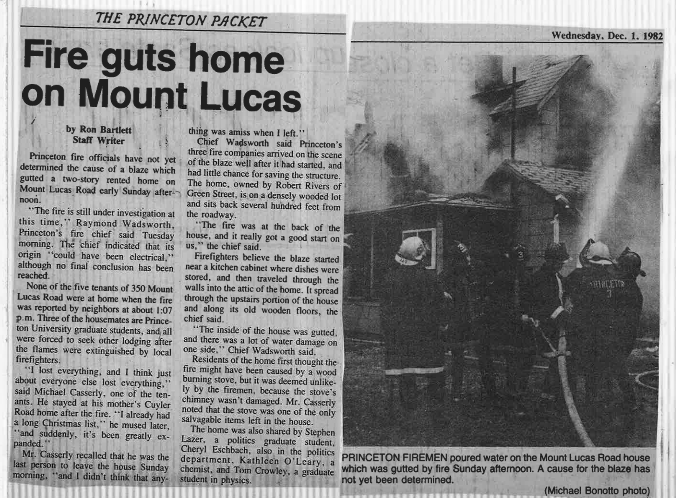 Princeton Packet
1 December 1982
Fire Guts Home on Mount Lucas
by Ron Bartlett
Staff Writer
Princeton fire officials have not yet determined the cause of a blaze which gutted a two-story rented home on Mount Lucas Road early'Sunday afternoon.
"The fire is still under investigation at this time," Raymond Wadsworth. Princeton's fire chief said Tuesday morning. The chief indicated that its origin "could have been electrical." although no final conclusion has been reached.
None of the five tenants of 350 Mount Lucas Road were at home when the fire was reported by neighbors at about 1:07 p m. "Three of the housemates are Princeton University graduate students, and all were forced to seek other lodging after the flames were extinguished by local firefighters.
"I lost everything, and I think just about everyone else lost everything." said Michael Casserly, one of the tenants. He stayed at his mother's Cuyler Road home after the fire. "I already had a long Christmas list," he mused later, "and suddenly, it's been greatly expanded."
Mr. Casserly recalled that he was the last person to leave the house Sunday morning, "and I didn't think that any thing was amiss when I left."
Chief Wadsworth said Princeton's three fire companies arrived on the scene of the blaze well after it had started, and had little chance for saving the structure. The home, owned by Robert Rivers of Green Street, is on a densely wooded lot and sits back several hundred feet from the roadway.
"The fire was at the back of the house, and it really got a good start on us," the chief said.
Firefighters believe the blaze started near a kitchen cabinet where dishes were stored, and then traveled through the walls into the attic of the home. It spread through the upstairs portion of the house and along its old wooden floors, the chief said.
"The inside of the house was gutted, and there was a lot of water damage on one side." Chief Wadsworth said.
Residents of the home first thought the fire might have been caused by a wood burning stove, but it was deemed unlikely by the firemen, because the stove's chimney wasn't damaged. Mr. Casserly noted that the stove was one of the only salvageable items left in the house.
The home was also shared by Stephen Lazer, a politics graduate student, Cheryl Eschbach, also in the politics department, Kathleen O'Leary, a chemist, and Tom Crowley, a graduate student in physics.
---
Picture Caption:
PRINCETON FIREMEN poured water on the Mount Lucas Road house which was gutted by fire Sunday afternoon. A cause for the blaze has not yet been determined.
(Michael Bonotto photo)