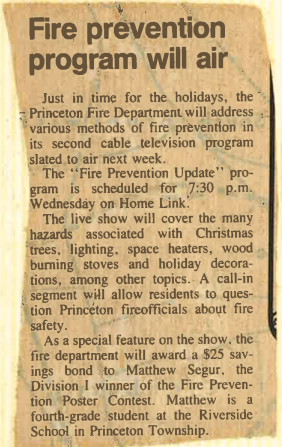 2 December, 1986
Fire prevention program will air
Just in time for the holidays, the  Princeton Fire Department will address various methods of fire prevention in its second cable television program slated to air next week.
The "Fire Prevention Update" program is scheduled for 7:30 p.m. Wednesday on Home Link:
The live show will cover the many hazards associated with Christmas trees, lighting, space heaters, wood burning stoves and holiday decorations, among other topics. A call-in segment will allow residents to question Princeton fire officials about fire safety.
As a special feature on the show, the fire department will award a $25 savings bond to Matthew Segur the Division I winner of the Fire Prevention Poster Contest. Matthew is a fourth-grade student at the Riverside School in Princeton Township.