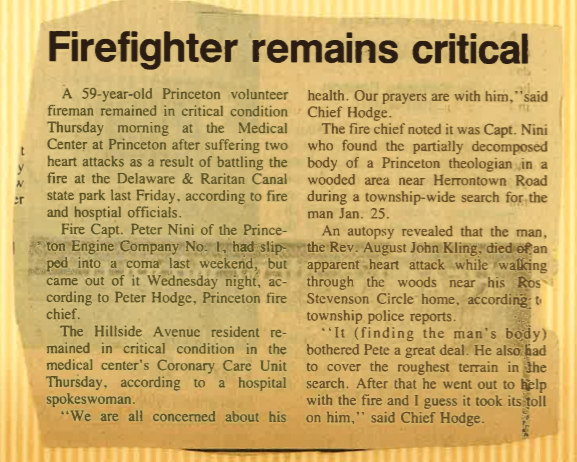 The Princeton Packet
5 February, 1986 (~estimated)
Firefighter remains critical
A 59-year-old Princeton volunteer fireman remained in critical condition Thursday morning at the Medical Center at Princeton after suffering two heart attacks as a result of battling the fire at the Delaware & Raritan Canal state park last Friday, according to fire and hospital officials.
Fire Capt. Peter Nini of the Princeton Engine Company No 1. had slipped into a coma last weekend but came out of it Wednesday night, according to Peter Hodge, Princeton fire chief.
The Hillside Avenue resident remained in critical condition in the medical center's Coronary Care Unit Thursday, according to a hospital spokeswoman.
"We are all concerned about his health. Our prayers are with him," said Chief Hodge.
The fire chief noted it was Capt. Nini who found the partially decomposed body of a Princeton theologian in a wooded area near Herrontown Road during a township-wide search for the man Jan. 25.
An autopsy revealed that the man, the Rev. August John Kling, died of an apparent heart attack while walking through the woods near his Ros Stevenson Circle home, according to township police reports.
"It (finding the man's body) bothered Pete a great deal. He also had to cover the roughest terrain in the search. After that, he went out to help with the fire, and I guess it took its toll on him," said Chief Hodge.