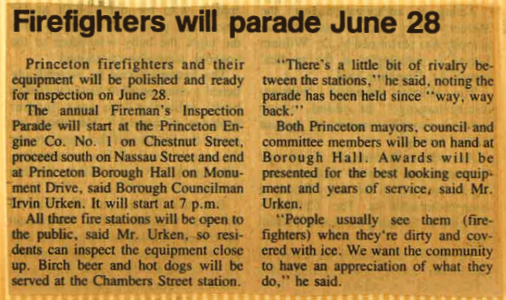 Princeton Packet
28 June, 1985
Firefighters Will Parade June 28
Princeton firefighters and their equipment will be polished and ready for inspection on June 28.
The annual Fireman's Inspection Parade will start at the Princeton Engine Co. No. I on Chestnut Street. proceed south on Nassau Street and end at Princeton Borough Hall on Monument Drive. said Borough Councilman Irvin Urken. It will start at 7 p.m.
All three fire stations will be open to the public, said Mr. Urken. so residents can inspect the equipment close up. Birch beer and hot dogs will be screed at the Chambers Street station.
"There's a little bit of rivalry be-tween the stations,•• he said. noting the parade has been held since "way, way back." Both Princeton mayors. council and committee members will be on hand at Borough Hall. Awards will be presented for the best looking equipment and years of service, said Mr. Urken. "People usually see them (fire-fighters) when they're dirty and covered with ice. We want the community to have an appreciation of what they do." he said.