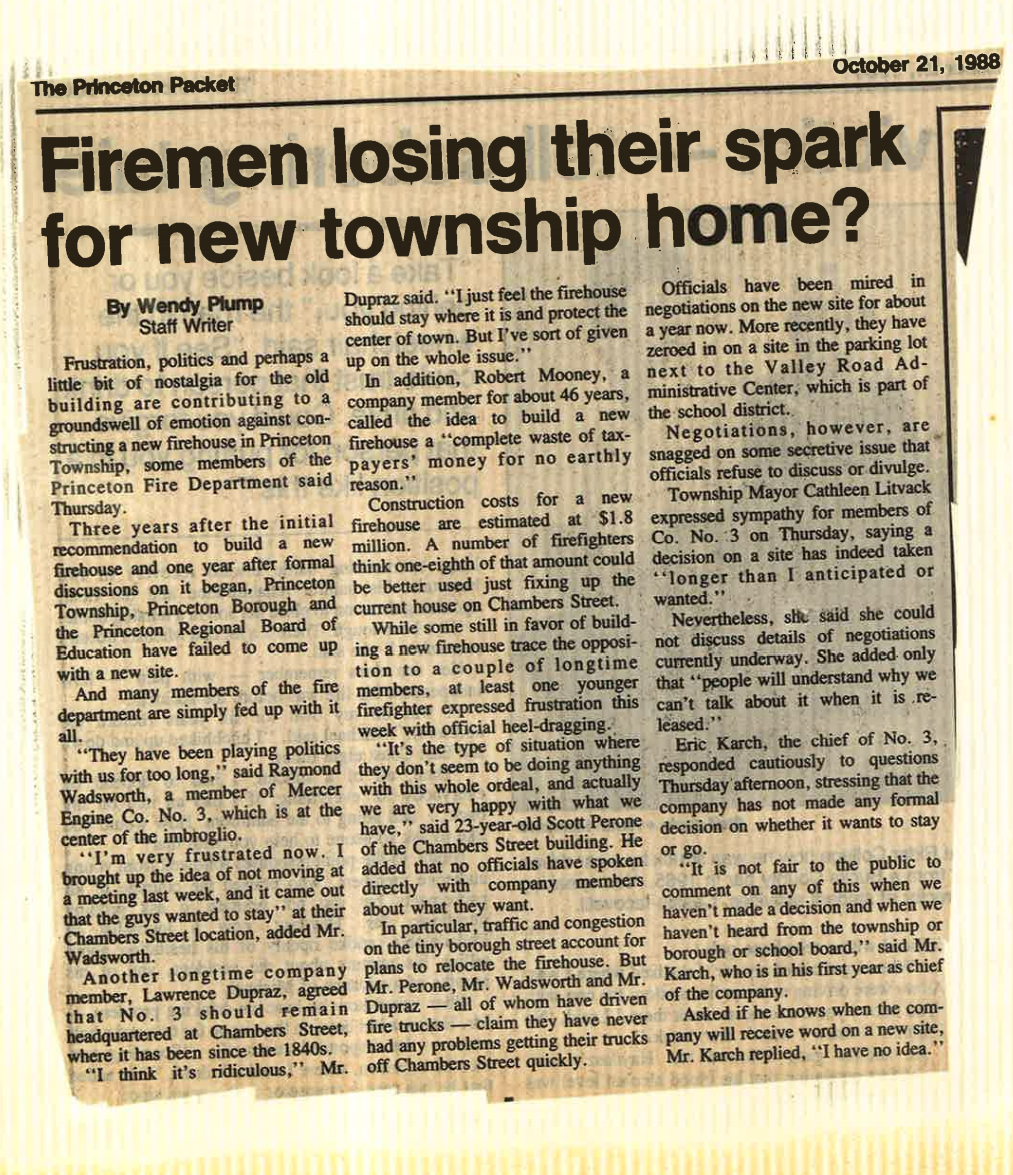 Princeton Packet
21 October, 1988
Firemen losing their spark for new township home?
By Wendy Plump
Staff Writer
Frustration, politics and perhaps a link bit of nostalgia for the old building are contributing to a groundswell of emotion against constructing a new firehouse in Princeton Township. some members of the Princeton Fire Department said Thursday.
Three years after the initial recommendation to build a now firehouse and one year after formal discussions on it beg., Princeton Township, Princeton Borough and the Princeton Regional Board of Education have failed to come up with a new site.
And many members of the foe department are simply fed up with it all.
"They have been playing politics with is for too long." said Raymond Wadsworth, a member of Mercer Engine Co. No. 3, which is at the center of the imbroglio.
"I'm very frustrated now. I brought up the idea of not moving at a meeting last week, and it came out that the guys wanted to stay" at their Clambers Street location, added Mr. Wadsworth.
Another longtime company member, Lawrence Dupre., agreed that No. 3 should remain headquartered at Chambers Street. where it has been since the 1840s.
"I think it's ridiculous," Mr. Dupraz said. "I just feel the firehouse should stay where is it and protect the center of town. But I've sort of given up on the whole issue ."
In addition, Robert Mooney, a company member for about 46 years, called the idea to build a new firehouse a "complete waste of taxpayers' money for no earthly reason."
Construction costs for a new firehouse are estimated at $1.8 million. A number of firefighters think one-eighth of that amount could be better used just fixing up the current house on Chambers Street.
While some still in favor of building a new firehouse trace the opposition to a couple of longtime members, at least one younger firefighter expressed frustration this week with official heel-dragging.
"Its the type of situation where they don't seem to be doing anything with this whole ordeal and actually we are very happy with what we have," said 23-year-old Scott Perone of the Chambers Street building. He added that no officials have spoken directly with company members about what they want.
In particular, traffic and congestion on the tiny borough street account for plans to relocate the firehouse. But Mr. Perone, Mr. Wadsworth and Mr. Dupraz — all of whom have driven fire trucks — claim they have never had any problems getting their trucks off Chambers Street quickly.
Officials have been mired in negotiations on the new site for about a year now. More recently, they have zeroed in on a site in the parking lot next to the Valley Road Administrative Center, which is part of the school district.
Negotiations, however, are snagged on some secretive issue that officials refuse to discuss or divulge.
Townships Mayor Cathleen  Litvack expressed sympathy for members of Co. No. 3 on Thursday, saying a decision on a site has indeed taken "longer than I anticipated or wanted".
Nevertheless, she said she could not discuss details of negotiations currently underway. She added only that "people will understand why we can't talk about it when it released."
Eric Karch, the chief of No.3, responded cautiously to questions Thursday afternoon, stressing that the company has not made any formal decision on whether it wants to stay or go.
"It is not fair to the public to comment on any of this when we haven't made a decision and when we haven't heard from the township or borough or school board,"
Asked if he knows when the company will receive word on a new site, Mr.Karch replied, "I have no idea."