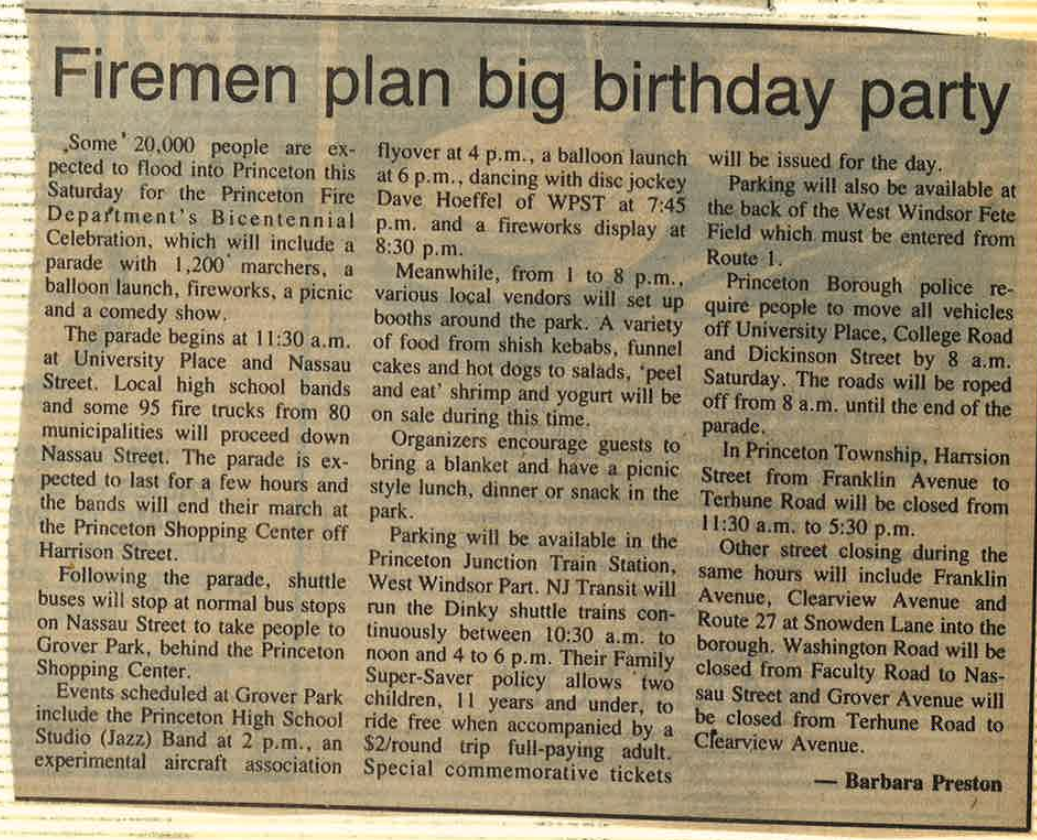 10 May, 1988 (~estimated)
Firemen plan big birthday party
Barbara Preston
Some 20,000 people are expected to flood into Princeton this Saturday for the Princeton Fire Department Bicentennial Celebration, which will include a parade with 1,203 marchers, a balloon launch, fireworks, a picnic and a comedy show.
The parade begins at 11:30 a.m. at University Place and Nassau Street. Local high school bands and some 95 fire trucks from 80 municipalities will proceed down Nassau Street. The parade is expected to last for a few hours and the bands will end their march at the Princeton Shopping Center off Harrison Street.
Following the parade, shuttle buses will stop at normal has stops on Nassau Street to take people to Grover Park, behind the Princeton Shopping Center.
Events scheduled at Grover Park include the Princeton High School Studio (Jazz) Band at 2 p.m., an experimental aircraft association flyover at 4 p.m., a balloon launch at 6 p.m.. dancing with disc jockey Dave Hoeffel of WPST at 7:45 p.m. and a fireworks display at 8:30 p.m.
Meanwhile, from 1 to 8 p.m.. various local vendors will net up booths around the park. A variety of food from shish kebabs funnel cakes and hot dogs to salads, peel and eat shrimp and yogurt will be on sale during this time.
Organizers encourage guests to bring a blanket and have a picnic style lunch, dinner or snack in the park.
Parking will be available in the Princeton Junction Train Station West Windsor Part. N1 Transit will run the Dinky shuttle trains continuously between 10:30 a.m. to noon and 4 to 6 p.m. Their Family Super-Saver policy allows Iwo children. II years and under, to ride free when accompanied by a round trip full-paying adult. Special commemorative tickets will be issued for the day.
Parking will also be available at the back of the West Windsor Fete Field which must he entered from Route I.
Princeton Borough police require people to move all vehicles off University Place, College Road and Dickinson Street by 8 a.m. Saturday. The roads will be roped off from 8 a.m. until the end of the parade.
In Princeton Township, Harrison Street from Franklin Avenue to Terhune Road will he closed from 11:30 a.m. to 5:30 p.m.
Other street closing during the same hour, will include Franklin Avenue, Clearview Avenue and Route 27 at Snowden Lane into the borough. Washington Road will be closed from Faculty Road to Nassau Street and Grover Avenue will be closed from Terhune Road to Clearview Avenue.