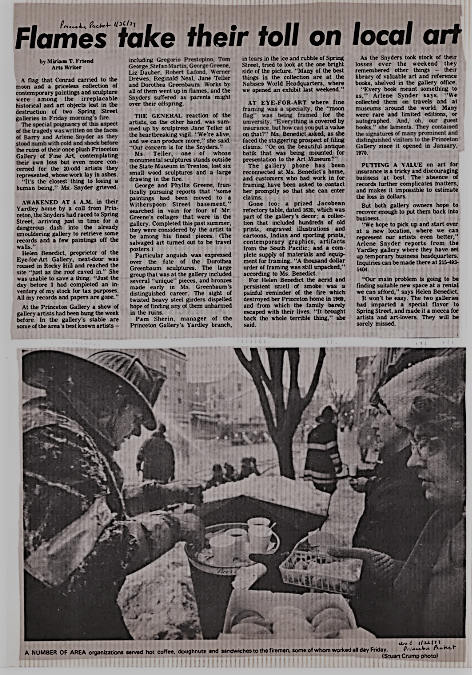 Princeton Packet
26 January 1977
Flames take their toll on local art
by Miriam T. Friend
Arts Writer
A flag that Conrad carried to the moon and a priceless collection of contemporary paintings and sculpture were among the irreplaceable historical and art objects lost in the destruction of two Spring Street galleries in Friday morning's fire.
The special poignancy of this aspect of the tragedy was written on the faces of Barry and Arlene Snyder as they stood numb with cold and shock before the ruins of their once plush Princeton Gallery of Fine Art, contemplating their own loss but even more concerned for the 20-odd artists they represented, whose work lay in ashes. "It's the closest thing to losing a human being," Ms. Snyder grieved.
AWAKENED AT 4 A.M. in their Yardley home by a call from Princeton, the Snyders had raced to Spring Street, arriving just in time for a dangerous dash into the already smouldering gallery to retrieve some records and a few paintings off the walls.:
Helen Benedict, proprietor of the Eye-for-Art Gallery, next-door was roused in Rocky Hill and reached the site "just as the roof caved in." She was unable to save a thing. "Just the day before I had completed an inventory of my stock for tax purposes. All my records and papers are gone."
At the Princeton Gallery a show of gallery artists had been hung the week before. In the gallery's stable are some of the area's best known artists — including Gregorio Prestopino, Tom George, Stefan Martin, George Greene, Liz Dauber, Robert Lafond, Werner Drewed, Reginald Neal, Jane Teller and Dorothea Greenbaum. Works by all of them went up in flames, and the Snyders suffered as parents might over their offspring.
THE GENERAL reaction of the artists, on the other hand, was summed up by sculptress Jane Teller at the heartbreaking vigil. "We're alive, and we can produce more," she said. "Our concern is for the Snyders."
Mr. Teller, one of whose monumental sculptures stands outside the State Museum in Trenton, lost six small wood sculptures and a large drawing in the fire.
George and Phyllis Greene, frantically pursuing reports that "some paintings had been moved to a Witherspoon Street basement," searched in vain for four of Mr. Greene's collages that were in the gallery. Completed this past summer, they were considered by the artist to be among his finest pieces. (The salvaged art turned out to be travel posters.)
Particular anguish was expressed over the fate of the Dorothea Greenbaum sculptures. The large group that was at the gallery included several "unique" pieces, and bronzes made early in Ms. Greenbaum's career. The sight of twisted heavy steel girders dispelled hope of finding any of them unharmed in the ruins.
Pam Sherin, manager of the Princeton Gallery's Yardley branch, in tears in the ice and rubble of Spring Street, tried to look at the one bright side of the picture. "Many of the best things in the collection are at the Nabisco World Headquarters, where we opened an exhibit last weekend."
AT EYE-FOR-ART where fine framing was a specialty, the "moon flag" was being framed for the university. "Everything is covered by insurance, but how can you put a value on that?" Ms. Benedict asked, as she faced the staggering prospect of filing claims. "Or on the beautiful antique batik that was being mounted for presentation to the Art Museum?"
The gallery phone has been reconnected at Ms. Benedict's home, and customers who had work in for framing have been asked to contact her promptly so that she can enter claims.
Gone too; a prized Jacobean refector table, dated 1620, which was part of the gallery's decor; a collection that included hundreds of old prints, engraved illustrations and cartoons, Indian and sporting prints, contemporary graphics, artifacts from the South Pacific; and a complete supply of materials and equipment for framing. "A thousand dollar order of framing was still unpacked," according to Ms. Benedict.
For Helen Benedict the acrid and persistent smell of smoke was a painful reminder of the fire which destroyed her Princeton home in 1969, and from which the family barely escaped with their lives. "It brought back the whole terrible thing," she said.
As the Snyders took stock of their losses over the weekend they remembered other things — their library of valuable art and reference books, shelved in the gallery office.
"Every book meant something to us," Arlene Snyder says. "We collected them on travels and at museums around the world. Many were rare and limited editions, or autographed. And, oh, our guest books," she laments. They contained the signatures of many prominent and distinguished visitors to the Princeton Gallery since it opened in January, 1970.
PUTTING A VALUE on art for insurance is a tricky and discouraging business at best. The absence of records further complicates matters, and makes it impossible to estimate the loss in dollars.
But both gallery owners hope to recover enough to put them back into business.
"We hope to pick up and start over at a new location, where we can represent our artists even better," Arlene Snyder reports from the Yardley gallery where they have set up temporary business headquarters. Inquiries can be made there at 215-493-1404.
"Our main problem is going to be finding suitable new space at a rental we can afford," says Helen Benedict.
It won't be easy. The two galleries had imparted a special flavor to Spring Street, and made it a mecca for artists and art-lovers. They will be sorely missed.
Photo Caption: A NUMBER OF AREA organizations served hot coffee, doughnuts and sandwiches to the firemen, some of whom worked all day Friday. (Stuart Crump photo)