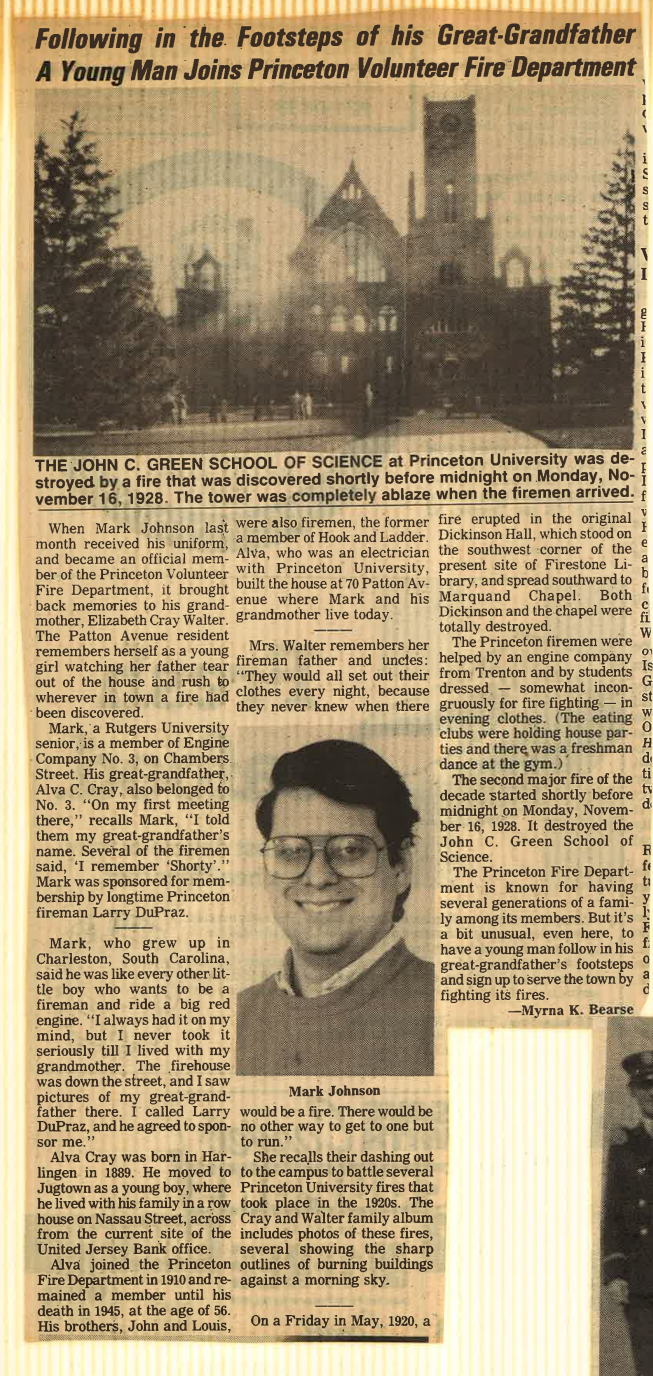 THE JOHN C. GREEN SCHOOL OF SCIENCE at Princeton University was destroyed by a fire that was discovered shortly before midnight on Monday, November 16, 1928. The tower was completely ablaze when the firemen arrived. 
10 March, 1987 (~estimated)
Following in the Footsteps of his Grandfather
A Young Man Joins Princeton Volunteer fire Department 
—Myrna K. Bearse 
When Mark Johnson last month received his uniform, and became an official mem-ber of the Princeton Volunteer Fire Department, it brought back memories to his grandmother, Elizabeth Cray Walter. The Patton Avenue resident remembers herself as a young girl watching her father tear out of the house and rush to wherever in town a fire had been discovered.
Mark, a Rutgers University senior, is a member of Engine Company No. 3, on Chambers Street. His great-grandfather, Alva C. Cray, also belonged iv No. 3. "On my first meeting there," recalls Mark, "I told them my great-grandfather's name. Several of the firemen said, 'I remember `Shorty'." Mark was sponsored for membership by longtime Princeton fireman Larry DuPraz. 
Mark, who grew up in Charleston, South Carolina, said he was like every other little boy who wants to be a fireman and ride a big red engine. "I always had it on my mind, but I never took it seriously till I lived with my grandmother. The firehouse was down the street, and I saw pictures of my great-grandfather there. I called Larry DuPraz, and he agreed to sponsor me."
Alva Cray was born in Harlingen in 1889. He moved to Jugtown as a young boy, where he lived with his family in a row house on Nassau Street, across from the current site of the United Jersey Bank office.
Alva joined the Princeton Fire Department in 1910 and remained a member until his death in 1945, at the age of 56. His brothel John and Louis, were also firemen, the former -a member of Hook and Ladder. Alva, who was an electrician with Princeton University, built the house at 70 Patton Avenue where Mark and his grandmother live today. 
Mrs. Walter remembers her fireman father and uncles: "They would all set out their clothes every night, because they never knew when there would be a fire. There would be no other way to get to one but to run." She recalls their dashing out to the campus to battle several Princeton University fires that took place in the 1920s. The Cray and Walter family album includes photos of these fires, several showing the sharp outlines of burning buildings against a morning sky.
On a Friday in May, 1920, a fire erupted in the original Dickinson Hall, which stood on the southwest corner of the present site of Firestone Li-brary, and spread southward to Marquand Chapel. Both Dickinson and the chapel were totally destroyed. The Princeton firemen were helped by an engine company from Trenton and by students dressed — somewhat incongruous for fire fighting — in evening clothes. (The eating clubs were holding house parties and there was a freshman dance at the gym.) The second major fire of the decade started shortly before midnight on Monday, November 16, 1928. It destroyed the John C. Green School of Science.
The Princeton Fire Department is known for having several generations of a family among its members. But it's a bit unusual, even here, to have a young man follow in his great-grandfather's footsteps and sign up to serve the town by fighting its fires.