Princeton Packet
28 August, 1987
Gas Leak prompts evacuation of 200
By Wendy Plump
Staff Writer
Over 200 university area workers were evacuated Tuesday when a high pressure gas main on Washington Road broke, spewing debris and a brownish stream of natural gas into the air shortly before noon.
Gas service was shut down in at least four university buildings and traffic was rerouted through the township after fire officials closed off Washington Road from Williams Street to Faculty Road. according to Princeton Fire Chief Ken Rendall.
The gas main broke when a contractor working on a water main on Washington Road caught the main with the bucket of a backhoe, severing a portion of the six-inch plastic pipe, Chief Rendall said.
Approximately 250 university employees, students and other workers in the Ivy Lane area were evacuated between noon and 12:30 p.m. They were permitted to return to work at approximately 2 p.m. after fire officials completed monitoring evacuated buildings for the presence of natural gas.
Although the majority of the leaked gas was dissipated into the air, meters detected a 10 percent level of natural gas in Guyot Hall before 2 p.m., according to Chief Rendall. Officials were ideally looking for a "zero percent" reading, he said, but the 10 percent reading was not within the hazardous range.
"When you get up to the 25 percent level, then you start to worry," Chief Rendall said. He added the buildings were "easily" cleared of the gas by opening windows.
No injuries were reported as a result of the main break but PSE&G spokesman Peter Laning said more than 200 borough residents in the vicinity were without gas service for the afternoon and early evening. Gas service was restored to a final few residents by 10 p.m. Tuesday, Mr. Laning said.
The water main was fully repaired last Tuesday night and the cost for the repair will be absorbed by PSE&G "as a part of the cost of doing business," noted Mr. Laning He said he could not estimate the cost of repairs.
Two days after the main break, fire and PSE&G officials were disagreeing on the severity of the incident.
Mr. Laning said the main break posed "no significant danger" to people and buildings in the area. "The evacuations were precautionary. Whenever you have a large volume of gas like that it just makes sense to move people out of the area," he said.
Nevertheless Chief Rendall said gas main breaks are "always a real danger" because hazardous materials are involved. "After all, it's the same gas in your stove at home," he said.
"Personally I think they were trying to downplay it because it was pretty bad. Gas lines are being hit all over the country and backhoe operators have been killed in similar circumstances before," he said.
In response Mr. Laning said, "I didn't mean to suggest that we looked at the break as being insignificant. But I don't think we would describe it as having been a very dangerous situation."
Chief Rendall explained the temperate weather Tuesday afternoon contributed to the rapid dissipation of natural gas both in the air and in surrounding buildings. "Given that it was a sunny day the gas went straight up into the air. Natural gas is lighter than air and it was under pressure so it shot straight up," he noted.
"If it had been overcast or a windy day, we would have had more of a problem because then the gas blows into buildings or gets low to the ground and if a car passes by you can get a spark," he added.
A maintenance worker at Frick Laboratory who came outside shortly after the main broke said he heard no loud noise. "We just heard that," said Jeff Sorgler, pointing to the geyser-like spray of natural gas shooting out of the break.
"I'm just going to wait out here and see what happens and tell people not to light any cigarettes," Mr. Sorgler added.
Agnes Pearson, business manager at Woodrow Wilson, said she asked her employees to evacuate the building at 12:05 p.m. after checking with security officials outside the building. They said get them out and I did. All you could hear was this swish but by then you could smell the gas," she said.
The spray was shut down by PSE&G workmen at 1:10 p.m., more than an hour after the main broke. Mr. Laning said the main had to be depressurized in stages and this process contributed to the lengthy release of natural gas. "It's just a lot more complicated than simply taming the handle of a valve," he said.
All three companies in the Princeton Fire Department and the Station 20 company from Lawrence Town-ship responded to the main break and set up a command post in front of Frick Laboratory.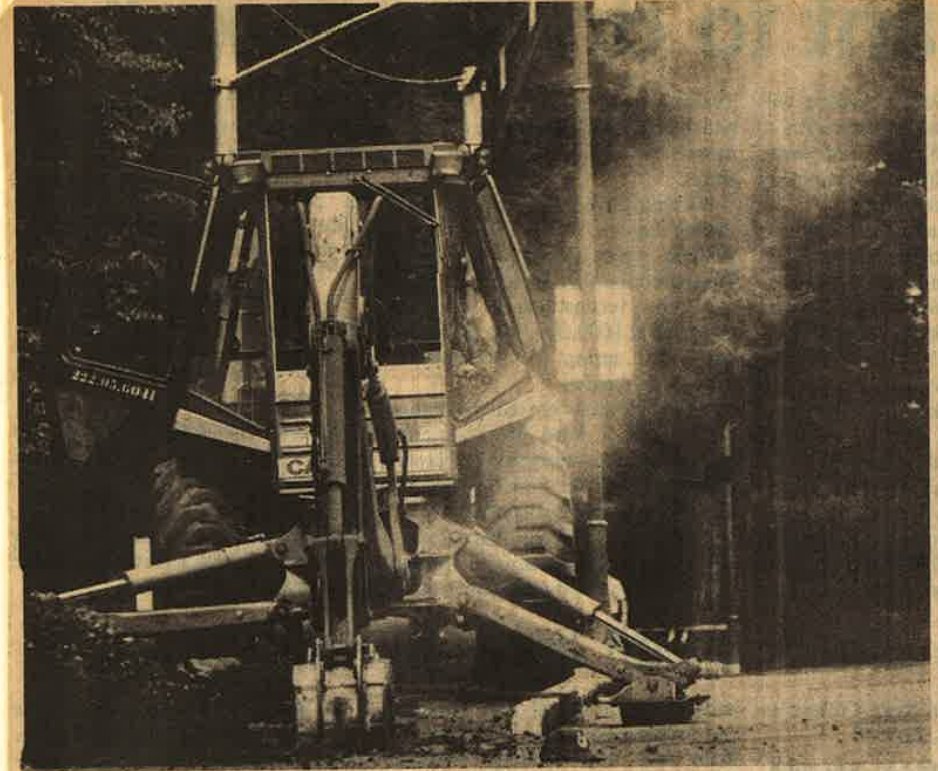 Staff Photo • Mike Sypniewski
Natural gas spews from a ruptured main Tuesday on Washington Road in Princeton. A backhoe working on excavating a water line struck the main at about noon. Over 200 people were evacuated from nearby Princeton University buildings until the leak was repaired at about 2:30 p.m.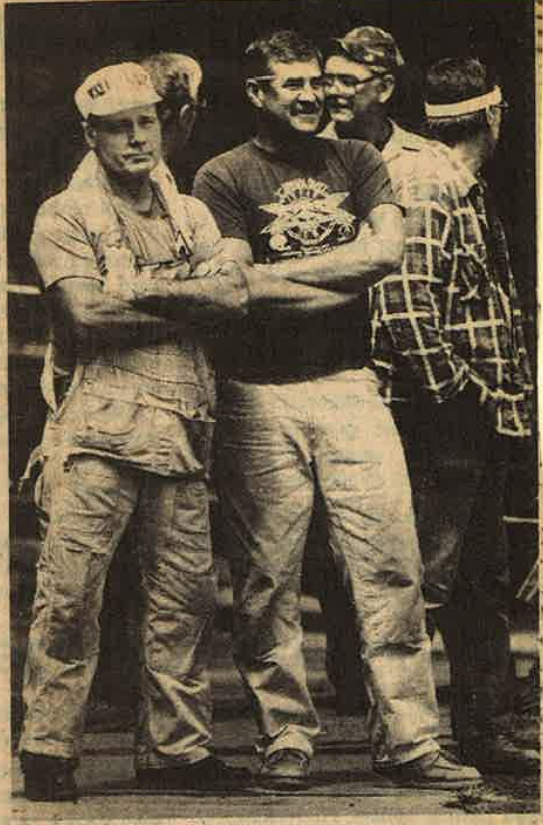 Construction workers stand by while a crew from., PSE&G repaired the gas leak Tuesday on Washington Road in Princeton.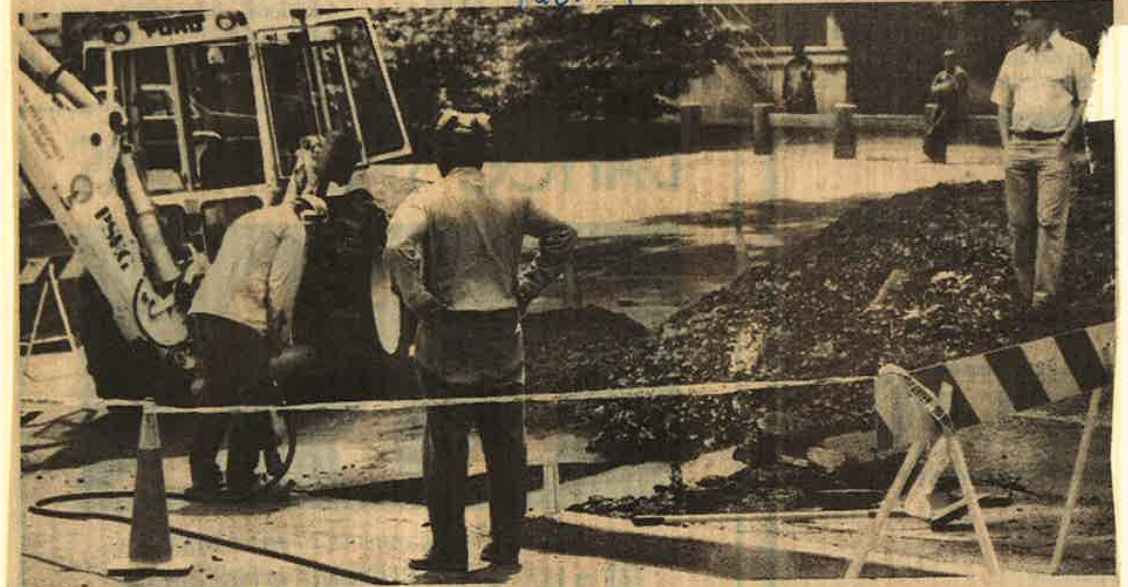 Staff Photo • Wendy Plump
A Public Service worker prepares to dig a patch on Washington Road in order to get to a broken gas main.