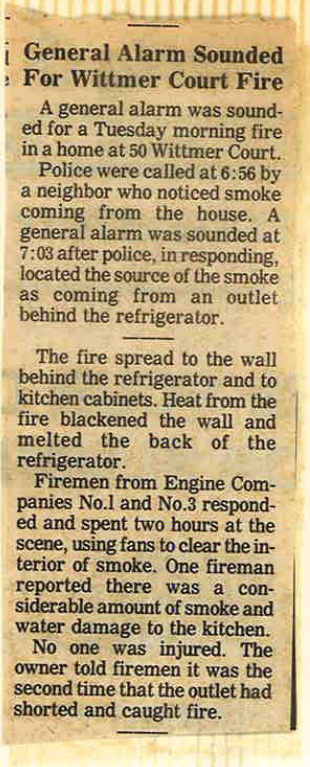 Town Topics
13 May, 1987
General Alarm Sounded For Wittmer Court Fire
A general alarm was sounded for a Tuesday morning fire in a home at 50 Wittmer Court.
Police were called at 6:56 by a neighbor who noticed smoke coming from the house. A general alarm was sounded at 7:03 after police. in responding, located the source of the smoke as coming from an outlet behind the refrigerator.
The fire spread to the wall behind the refrigerator and to kitchen cabinets. Heat from the fire blackened the wall and melted the back of the refrigerator. Firemen from Engine Companies No.I and No.3 responded and spent two hours at the scene, using fans to clear the interior of smoke. One fireman reported there was a considerable amount of smoke and water damage to the kitchen.
No one was injured. The owner told firemen it was the second lime that the outlet had shorted and caught fire.