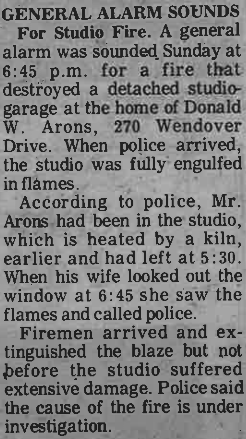 1 September, 1984
General Alarm Sounds
For Studio Fire. A general alarm was sounded Sunday at 6:45 p.m. for a fire that destroyed a detached studio garage at the home of Donald W. Arons, 270 Wendover Drive. When police arrived, the studio was fully engulfed inflames.
According to police, Mr. Arons had been in the studio, which is heated by a kiln, earlier and had left at 5:30. When his wife looked out the window at 6:45 she saw the flames and called police.
Firemen arrived and extinguished the blaze but not before the studio suffered extensive damage. Police said the cause of the fire is under investigation.