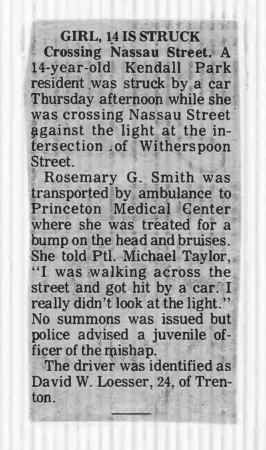 15 December 1982
(date estimated)
Girl, 14, is struck
Crossing Nassau Street. A 14-year-old Kendall Park resident was struck by a car Thursday afternoon while she was crossing Nassau Street against the light at the intersection of Witherspoon Street.
Rosemary G. Smith was transported by ambulance to Princeton Medical Center where she was treated for a bump on the head and bruises. She told Ptl. Michael Taylor,, "I was walking across the street and got hit by a car. I really didn't look at the light." No summons was issued but police advised a juvenile officer of the mishap.
The driver was identified as David W. Loesser, 24, of Trenton.