Princeton Packet
12 November 1980
Good Fortune
Members of the Princeton Rescue Squad are shown attempting to extricate the victim of an early morning automobile accident which occurred Monday at Harriet Drive and Snowden Lane at approximately 2:15 a.m. The driver of the car, Walter Harris Jr., 30, of Edinburg Road in Trenton was administered an intravenous solution at the scene, remained conscious throughout the extrication procedure, and was taken eventually to Princeton Medical Center where he was treated for minor cuts and bruises and released. According to police. Mr. Harris's vehicle was westbound on Route 27 when it struck the curb on the northside of the road, left the roadway and struck a utility pole. Rescue workers said the victim was flung into the back seat and almost wrapped around the pole. Police charged Mr. Harris with careless and drunken driving. In the photo from right: Wayne Smith, Princeton University student Andrew Smith and Ed Obert, squad captain.
(Mike Bonotto photo)
---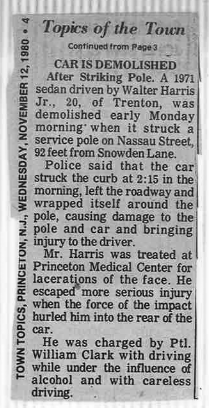 Town Topics
12 November 1980
CAR IS DEMOLISHED
CAR IS DEMOLISHED After Striking Pole. A 1971 sedan driven by Walter Harris Jr., 20, of Trenton, was demolished early Monday morning' when it struck a service pole on Nassau Street, 92 feet from Snowden Lane.
Police said that the car struck the curb at 2:15 in the morning, left the roadway and wrapped itself around the pole, causing damage to the pole and car and bringing injury to the driver.
Mr. Harris was treated at Princeton Medical Center for lacerations of the face. He escaped more serious injury when the force of the impact hurled him into the rear of the car.
He was charged by Ptl. William Clark with driving while under the influence of alcohol and with careless driving.