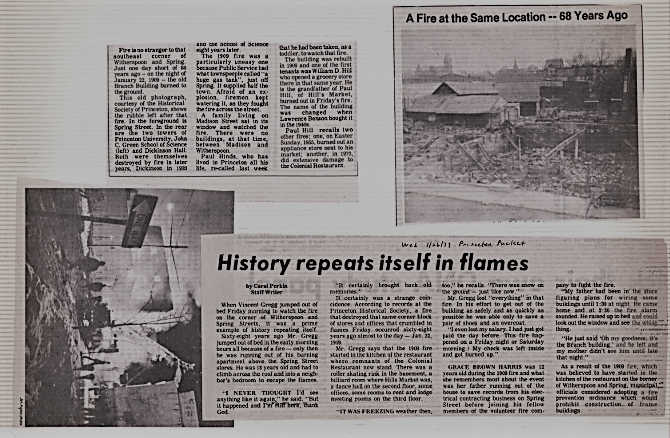 Princeton Packet
26 January 1977
History repeats itself in flames
by Carol Perkin
Staff Writer
When Vincent Gregg jumped out of bed Friday morning to watch the fire on the corner of Witherspoon and Spring Street, it was a prime example of history repeating itself.
Sixty-eight years ago Mr. Gregg jumped out of bed in the early morning hours all because of a fire — only then he was running out of his burning apartment above the Spring Street stores. He was 18 years old and had to climb across the roof and into a neighbor's bedroom to escape the flames.
"I NEVER THOUGHT I'd see anything like it again," he said, "But it happened and I'm still here, thank God. It certainly brought back old memories."
It certainly was a strange coincidence. According to records at the Princeton Historical Society, a fire that destroyed the same corner block of stores and offices that crumbled in flames Friday occurred sixty-eight years ago almost to the day — Jan. 22, 1909.
Mr. Gregg says that the 1909 fire started in the kitchen of the restaurant where remnants of the Colonial Restaurant now stand. There was a roller skating rink in the basement, a billiard room where Hill Market was, a dance hall on the second floor, some offices, some rooms to rent and lodge meeting room on the third floor.
"IT WAS FREEZING weather then, too," he recalls. "There was snow on the ground – just like now."
Mr. Gregg lost "everything" in that fire. In his effort to get out of the building as safely and as quickly as possible he was able only to save a pair of shoes and an overcoat.
"I even lost my salary, I had just got paid the day before. This fire happened on a Friday night or Saturday morning. My check was left inside and got burned up."
GRACE BROWN HARRIS was 12 years old during the 1909 fire and what she remembers most about the event was her father running out of the house to save records from his electrical contracting business on Spring Street before joining his fellow members of the volunteer fire company to fight the fire.
"My father had been in the store figuring plans for wiring some buildings until 1:30 at night. He came home and at 2:30 the fire alarm sounded. he raised up in bed and could look out the window and see the whole thing.
"He just said 'Oh my goodness, it's the Branch building," and he left and my mother didn't see him again until late that night."
As a result of the 1909 fire, which was believed to have started in the kitchen of the restaurant on the corner of Witherspoon and Spring, municipal officials considered adopting a fire prevention ordinance which would prohibit construction of frame buildings.
---
Photograph: A Fire at the Same Location — 68 Years Ago
Fire is no stranger to that southeast corner of Witherspoon and Spring. Just one day short of 68 years ago — on the night ofJanuary 22, 1909 — the old Branch Building burned to the ground.
This old photograph, courtesy of the Historical Society of Princeton, shows the rubble left after that fire. In the foreground is Spring Street. In the rear are the two towers of Princeton University, John C. Green School of Science (left) and Dickinson Hall. Both were themselves destroyed by fire in later years. Dickinson in 1920 and the School of Science eight years later.
The 1909 fire was a particularly uneasy one because Public Service had what townspeople called "a huge gas tank", just off Spring. It supplied half the town. Afraid of an explosion, firemen kept watering it, as they fought the fire across the street.
A family living on Madison Street sat in its window and watched the fire. There were no building, at that time, between Madison and Witherspoon.
Paul Hinds, who has lived in Princeton all his life, re-called last week that he had been taken, as a toddler, to watch that fire.
The building was rebuilt in 1909 and one of the fire tenants was William D. Hill who opened a grocery store there in that same year. He is the grandfather of Paul Hill, of Hill's Market, burned out in Friday's fire. The name of the building was changed when Lawrence Benson bought it in the 1940s.
Paul Hill recalls two other fires; one on Easter Sunday, 1955, burned out an appliance store nect to his market; another, in 1970, did extensive damage to the colonial Restaurant.
---
Bottom Left picture:
Jim Agins photo