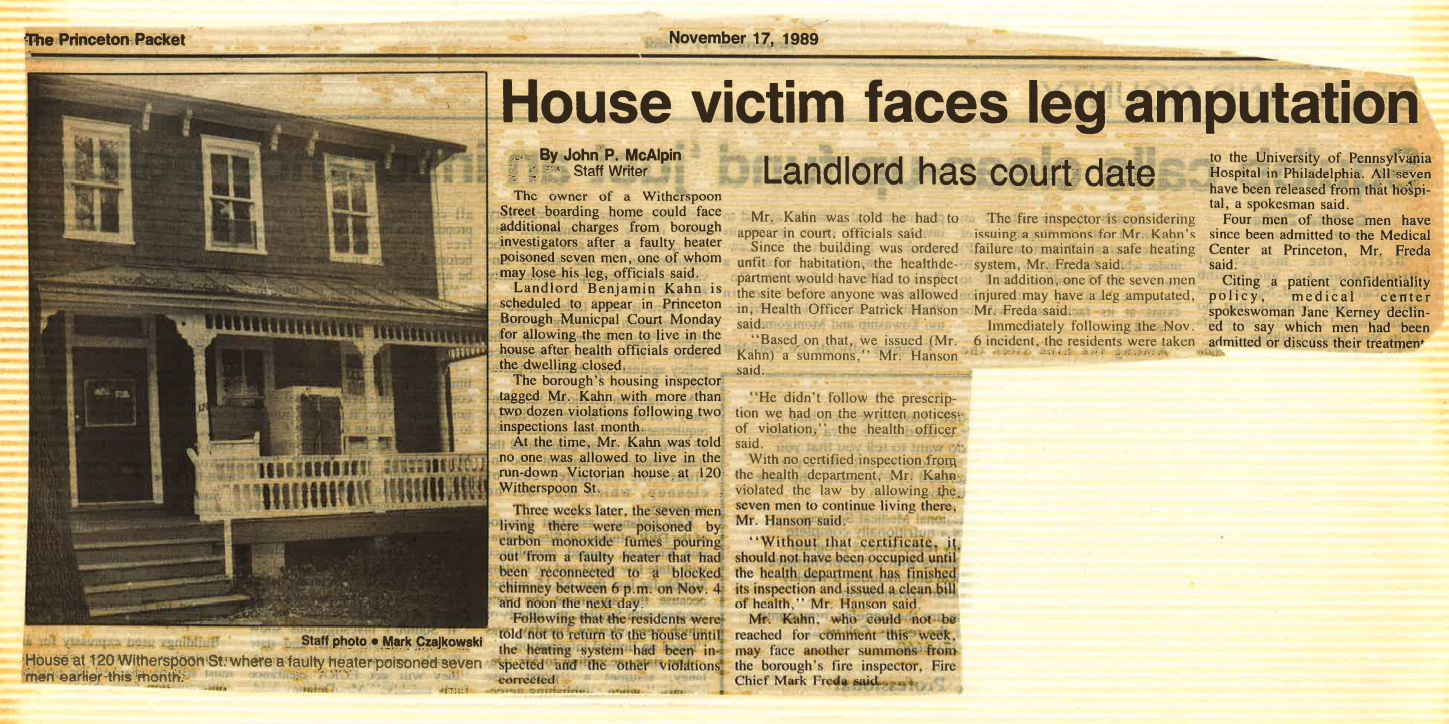 Princeton Packet
17 November, 1989
House victim faces leg amputation

Landlord has court date
By John P. McAlpin
Staff Writer
The owner of a Witherspoon Street boarding home could face additional charges from borough investigators after a faulty healer poisoned seven men, one of whom may lose his leg, officials said.
Landlord Benjamin Kahn is scheduled to appear in Princeton Borough Municipal Court Monday for allowing the men to live in the house after health officials ordered the dwelling closed.
The borough's noosing inspector tagged. Mr. Kahn with more than-two dozen violations following two inspections last month. At the time, Mr. Kahn was told no one as allowed to live in the rundown Victorian house at 120 Witherspoon St.
Three weeks later, the seven men living them were poisoned by carbon monoxide fumes pouring out from a faulty heater that had been reconnected to a blocked chimney between 6 p.m. on Nov. 4 and noon the next day.
Following that the residents were told not return to the house until the heating system had been inspected and the other violations corrected.
Mr. Kahn was told he had to appear in court, officials said.
Since the building was ordered unfit for habitation, the health department would have had to inspect the site before anyone was allowed in, Health Officer Patrick Hanson said.
"Based, on that, we issued (Mr. Kahn) a summons," Mr. Hanson said.
"He didn't follow the prescription we had on the written notices, of violation," the health officer said
With no certified inspection from the health department, Mr. Kahn violated the law by allowing the seven men to continue living there. Mr. Hanson said.
"Without that certificate, it, should not have been occupied until the health department has finished its inspection and issued a clean bill of health," Mr. Hanson said.
Mr. Kahn, who could not be reached for comment this week, may face another summons from the borough's fire another summons from the borough's fire inspector, Fire Chief Mark Freda said.
The fire inspector is considering issuing a summons for Mr. Kahn's failure to maintain a safe heating system, Mr. Freda said.
In addition, one of the seven men injured may have a leg amputated, Mr. Freda said.
Immediately following the Nov. 6 incident, the residents were taken to the University of Pennsylvania Hospital in Philadelphia. All seven have been released from that hospital, a spokesman said.
Four men of those men have since been admitted to the Medical Center at Princeton, Mr. Freda said. Citing a patient confidentiality policy, medical center spokeswoman Jane Kerney declined to say which men had been admitted or discuss their treatment.