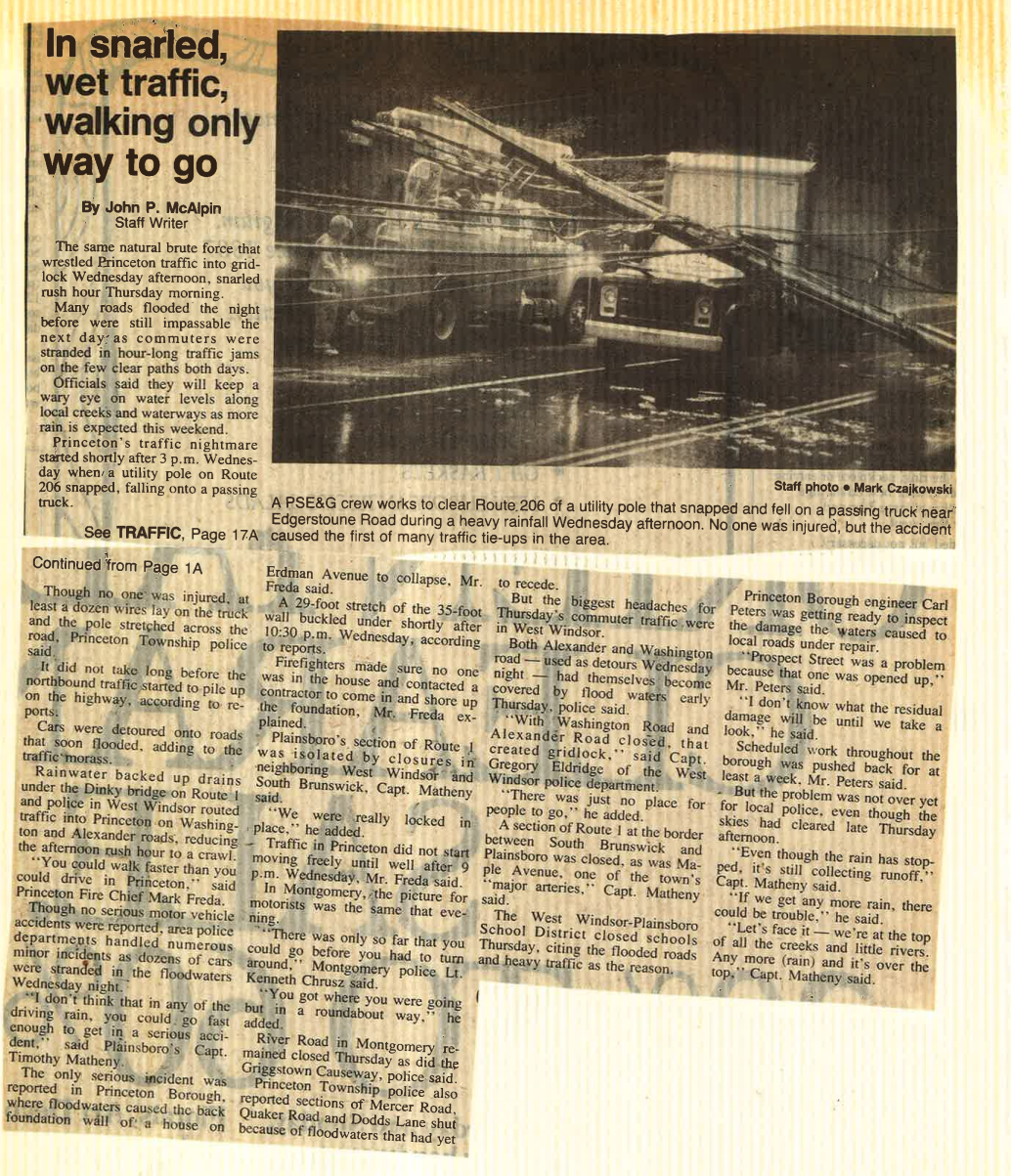 1 October, 1989 (~estimated)
In snarled, wet traffic, walking only way to go
The same natural brute force that wrestled Princeton traffic into grid-lock Wednesday afternoon, snarled rush hour Thursday morning.
Many roads flooded the night before were still impassable the next day as commuters were stranded in hour-long traffic jams on the few clear paths both days.
Officials said they will keep a wary eye on water levels along local creeks and waterways as more rain is expected this weekend.
Princeton's traffic nightmare started shortly after 3 p.m. Wednesday when' a utility pole on Route 206 snapped, falling onto a passing truck.
Though no one was injured, at least a dozen wires lay on the truck and the pole stretched across the road, Princeton Townhip police said.
It did not take long before the northbound traffic started to pile up on the highway, according to reports.
Cars were detoured onto roads that soon flooded, adding to the traffic morass.
Rainwater backed up drains under the Dinky bridge on Route 1 and police in West Windsor routed traffic into Princeton on Washington and Alexander roads, reducing the afternoon rush hour to a crawl.
" You could walk faster than you could drive in Princeton," said Princeton Fire Chief Mark Freda.
Though no serious motor vehicle accidents were reported, area police departments handled numerous minor incidents as dozens of cars were stranded in the floodwaters Wednesday night.
"I don't think that in any of the driving rain, you could go fast enough to get in a serious accident," said Plainsboro's Capt. Timothy Matheny.
The only serious incident was reported in Princeton Borough, where floodwaters caused the back foundation wall of a house on Erdman Avenue to collapse. Mr. Freda said.
A 29-foot stretch of the 35-foot wall buckled under shortly after 10:30 p.m. Wednesday, according to reports.
Firefighters made sure no one was in the house and contacted a contractor to come in and shore up the foundation, Mr. Freda explained.
Plainsboro section of Route l was isolated by closures in neighboring West Winds and South Brunswick. Capt. Matheny said.
"We were really locked in place." he added.
Traffic in Princeton did not start moving freely until well after 9 p.m. Wednesday, Mr. Freda said. In Montgomery,the picture for motorists was the same that evening.
"There was only so far that you could go before you had to turn around," Montgomery police Lt. Kenneth Chrusz said. "
You got where you were going but in a roundabout way," he added.
River Road in Montgomery remained closed Thursday as did the Griggstown Causeway, police said.
Princeton Township police also reported sections of Mercer Road, Quaker Road and Dodds Lane shut because of floodwaters that had yet to recede.
But the biggest headaches for Thursday's commuter traffic were in West Windsor.
Both Alexander and Washington road — used as detours Wednesday night — had themselves become covered by flood waters early Thursday. police said.
"With Washington Road and Alexander Road dossed. that created aridlock," said Capt. Gregory Eldridge of the West Windsor police department.
"There was just no place for people to go," he added.
A section of Route I at the border between South Brunswick and Plainsboro was closed. as was Maple Avenue. one of the town's "major arteries." Capt. Matheny said.
The West Windsor-Plainsboro School District closed schools Thursday. citing the flooded roads and heavy traffic as the reason.
Princeton Borough engineer Carl Peters was getting ready to inspect the damage the waters caused to local roads under repair.
"Prospect Street was a problem because that one was opened up," Mr. Peters said.
"I don't know what the residual damage will be until we take a look." he said.
Scheduled work throughout the borough was pushed back for at least a week. Mr. Peters said.
But the problem was not over yet for local police, even though the skies had cleared late Thursday afternoon.
"Even though the rain has stopped. it's still collecting runoff." Capt. Matheny said.
"If we get any more rain, there could be trouble." he said.
"Let's face it — we're at the top of all the creeks and little rivers. Any more (rain) and it's over the top," Capt. Matheny said.
---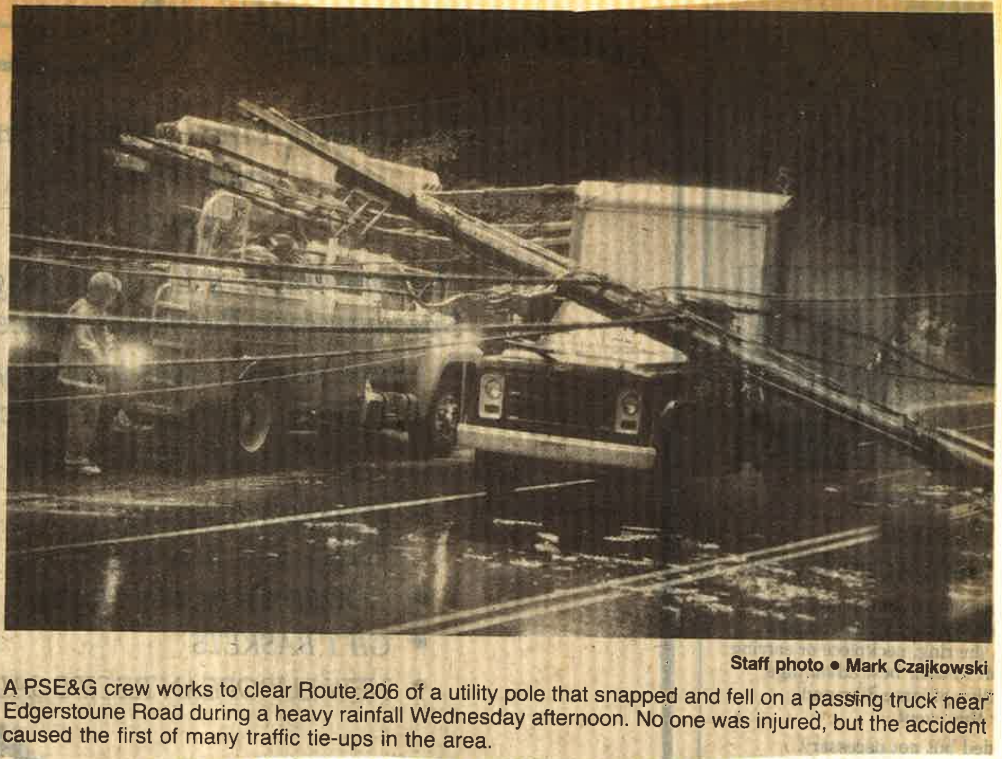 Staff photo • Mark Czajkowski
A PSE&G crew works to clear Route 206 of a utility pole that snapped and fell on a passing truck near Edgerstoune Road during a heavy rainfall Wednesday afternoon. No one was injured, but the accident caused the first of many traffic tie-ups in the area.