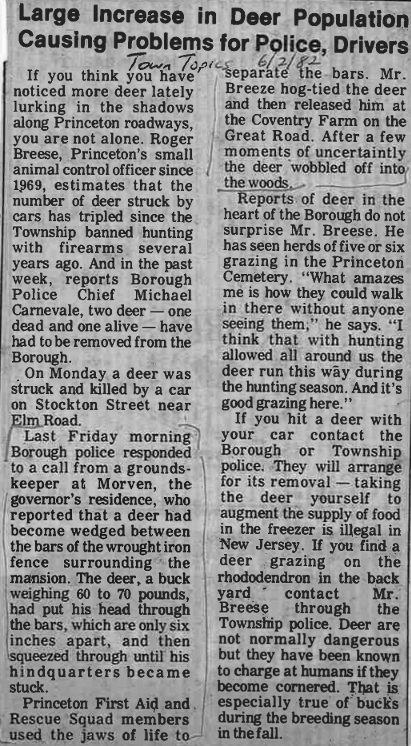 Town Topics
2 June 1982
Large Increase in Deer Population Causing Problems for Police, Drivers
If you think you have noticed more deer lately lurking in the shadows along Princeton roadways, you are not alone. Roger Breese, Princeton's small animal control officer since 1969, estimates that the number of deer struck by cars has tripled since the Township banned hunting with firearms several years ago. And in the past week, reports Borough Police Chief Michael Carnevale, two deer — one dead and one alive — have had to be removed from the Borough.
On Monday a deer was struck and killed by a car on Stockton Street near Elm Road.
Last Friday morning Borough police responded to a call from a groundskeeper at Morven, the governor's residence, who reported that a deer had become wedged between the bars of the wrought iron fence surrounding the mansion. The deer, a buck weighing 60 to 70 pounds, had put his head through the bars, which are only six inches apart, and then squeezed through until his hindquarters became stuck.
Princeton First Aid and Rescue Squad members used the jaws of life to separate the bars. Mr. Breeze hog-tied the deer and then released him at the Coventry Farm on the Great Road. After a few moments of uncertainty the deer wobbled off into
the woods.
Reports of deer in the heart of the Borough do not surprise Mr. Breese. He has seen herds of five or six grazing in the Princeton Cemetery. "What amazes me is how they could walk in there without anyone seeing them," he says. "I think that with hunting allowed all around us the deer run this way during the hunting season. And it's good grazing here."
If you hit a deer with your car contact the Borough or Township police. They will arrange for its removal — taking the deer yourself to augment the supply of food in the freezer is illegal in New Jersey. If you find a deer grazing on the rhododendron in the backyard contact Mr. Breese through the Township police. Deer are not normally dangerous but they have been known to charge at humans if they become cornered. That is especially true of buck's during the breeding season in the fall.