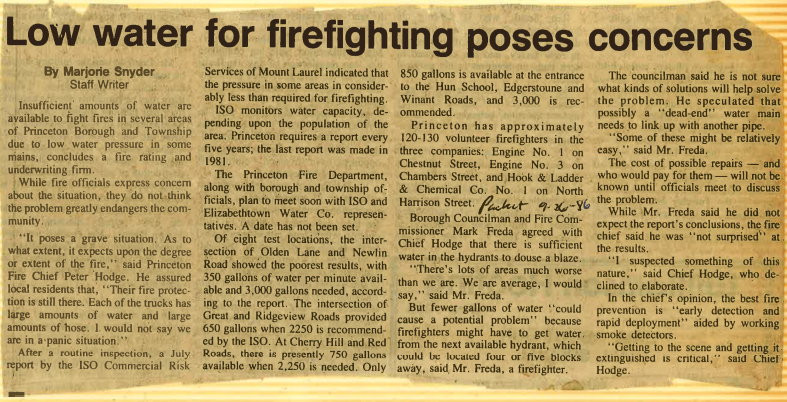 Princeton Packet
26 September, 1986
Low water for firefighting poses concerns
By Marjorie Snyder
Staff Writer
Insufficient amounts of water are available to fight fires in several areas of Princeton Borough and Township due to low water pressure in some mains, concludes a fire rating and underwriting firm.
While fire officials express concern about the situation, they do not think the problem greatly endangers the community.
"It poses a grave situation. As to what extent, it expects upon the degree or extent of the fire," said Princeton Fire Chief Peter Hodge. He assured local residents that, "Their fire protection is still there. Each of the trucks has large amounts of water and large amounts of hose. I would not say we are in a panic situation."
After a routine inspection, a July report by the ISO Commercial Risk IMP Services of Mount Laurel indicated that the pressure in some areas in considerably less than required for firefighting.
ISO monitors water capacity, depending upon the population of the area. Princeton requires a report every five years; the last report was made in 1981.
The Princeton Fire Department, along with borough and township officials, plan to meet soon with ISO and Elizabethtown Water Co. representatives. A date has not been set.
Of eight test locations, the intersection of Olden Lane and Newlin Road showed the poorest results, with 350 gallons of water per minute available and 3,000 gallons needed, according to the report. The intersection of Great and Ridgeview Roads provided 650 gallons when 2,250 is recommended by the ISO. At Cherry Hill and Red Roads, there is presently 750 gallons available when 2,250 is needed. Only 850 gallons is available at the entrance to the Hun School, Edgerstoune and Winant Roads, and 3,000 is recommended.
Princeton has approximately 120-130 volunteer firefighters in the three companies: Engine No. I on Chestnut Street, Engine No. 3 on Chambers Street, and Hook & Ladder & Chemical Co. No. I on North Harrison Street.
Borough Councilman and Fire Commissioner Mark Freda agreed with Chief Hodge that there is sufficient water in the hydrants to douse a blaze. —
There's lots of areas much worse than we are. We are average. I would say." said Mr. Freda.
But fewer gallons of water "could cause a potential problem" because firefighters might have to get water. from the next available hydrant, which could be [mated four or five blocks away, said Mr. Freda, a firefighter.
The councilman said he is not sure what kinds of solutions will help solve the problem. He speculated that possibly a "deadond" water main needs to link up with another pipe.
"Some of these might be relatively easy," said Mr. Freda.
The cost of possible repairs — and who would pay for them — will not be known until officials meet to discuss the problem.
While Mr. Freda said he did not expect the report's conclusions, the fire chief said he was "not surprised" at. the results.
"I suspected something of this nature." said Chief Hodge, who declined to elaborate.
In the chiefs opinion, the best fire prevention is "early detection and rapid deployment" aided by working smoke detectors.
"Getting to the scene and getting it extinguished is cnticat," said Chief Hodge.