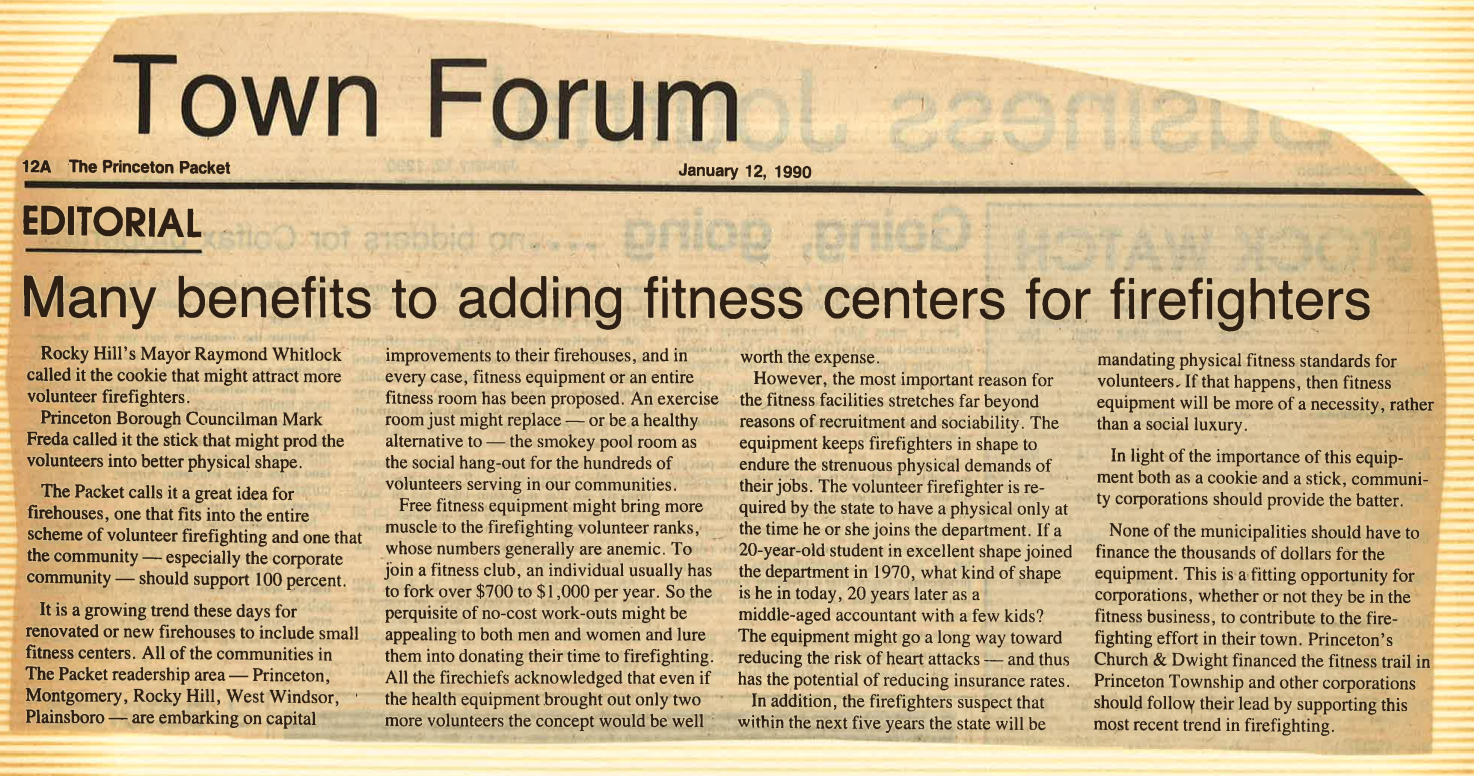 The Princeton Packet
12 January, 1990
Many benefits to adding fitness centers for firefighters
Rocky Hill's Mayor Raymond Whitlock called it the cookie that might attract more volunteer firefighters. Princeton Borough Councilman Mark Freda called it the stick that might prod the volunteers into better physical shape.
The Packet calls it a great idea for firehouses, one that fits into the entire scheme of volunteer firefighting and one the the community — especially the corporate community — should support 100 percent.
It is a growing trend these days for renovated or new firehouses to include small fitness centers. All of the communities in The Packet readership area — Princeton, Montgomery, Rocky Hill, West Windsor, Plainsboro—are embarking on capital improvements to their firehouses, and in every case, fitness equipment or an entire fitness room has been proposed. An exercise room just might replace — or be a healthy alternative to — the smokey pool room as the social hang-out for the hundreds of volunteers serving in our communities.
Free fitness equipment might bring more muscle to the firefighting volunteer ranks, whose numbers generally are anemic. To join a fitness club, an individual usually has to fork over $700 to $1,000 per year. So the perquisite of no-cost work-outs might be appealing to both men and women and sire them into donating their time to firefighting. All the fire chiefs acknowledged that even if the health equipment brought out only two more volunteers the concept would be well worth the expense.
However, the most important reason for the fitness facilities stretches far beyond reasons of recruitment and sociability. The equipment keeps firefighters in shape to endure the strenuous physical demands of their jobs. The volunteer firefighter is required by the state to have a physical only at the time he or she joins the department. If a 20-year-old student in excellent shape joined the department in 1970, what kind of shape is he in today, 20 years later as a middle-aged accountant with a few kids? The equipment might go a long way toward reducing the risk of heart attacks — and thus has the potential of reducing insurance rates.
In addition, the firefighters suspect that within the next five years the state will be mandating physical fitness standards for volunteers, If that happens, then fitness equipment will be more of a necessity, rather than a social luxury.
In light of the importance of this equipment both as a cookie and a stick, community corporations should provide the batter.
None of the municipalities should have to finance the thousands of dollars for the equipment. This is a fitting opportunity for corporations, whether or not they be in the fitness business, to contribute to the fire-fighting effort in their town. Princeton's Church & Dwight financed the fitness trail in Princeton Township and other corporations should follow their lead by supporting this most recent trend in firefighting.