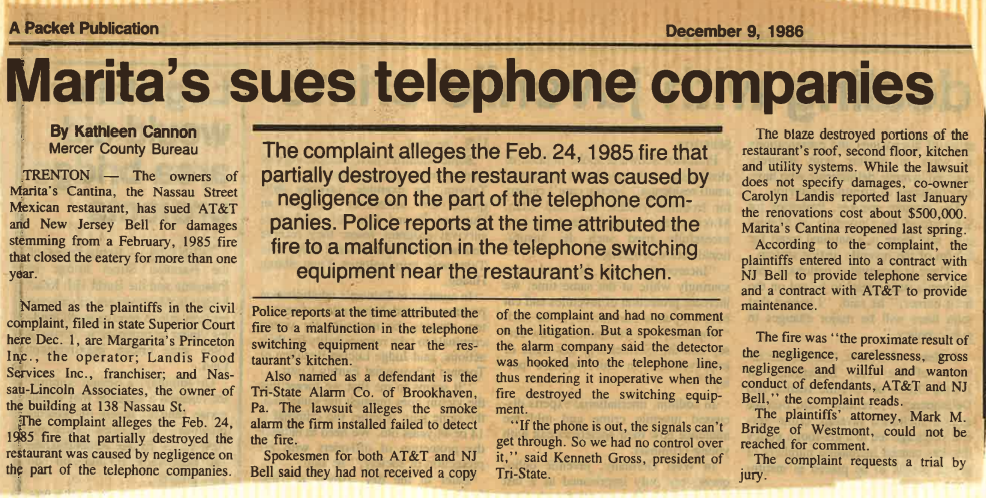 A Packet Publication
December 9, 1986
Marita's sues telephone companies
By Kathleen Cannon
Mercer County Bureau
TRENTON — The owners of Marita's Cantina, the Nassau Street Mexican restaurant, has sued AT&T and Ncw Jersey Bell for damages stemming from a February, 1985 fire that closed the eatery for more than one year.
Named as the plaintiffs in the civil complaint, filed in state Superior Court here Dec. I, are Margarita's Princeton Inc., the operator; Landis Food Services Inc., franchiser; and Nas-sau-Lincoln Associates, the owner of the building at 138 Nassau St.
The complaint alleges the Feb. 24, 1985 fire that partially destroyed the restaurant was caused by negligence on the pan of the telephone companies. Police reports at the time attributed the fire to a malfunction in the telephone switching equipment near the restaurant's kitchen.
Also named as a defendant is the Tri-State Alarm Co. of Brookhaven, Pa. The lawsuit alleges the smoke alarm the firm installed failed to detect the fire.
Spokesmen for both AT&T and NJ Bell said they had not received a copy of the complaint and had no comment on the litigation. But a spokesman for the alarm company said the detector was hooked into the telephone line, thus rendering it inoperative when the fire destroyed the switching equipment.
"If the phone is out, the signals can't get through. So we had no control over it," said Kenneth Gross, president of Tri-State.
The blaze destroyed portions of the restaurant's roof, second floor, kitchen and utility systems. While the lawsuit does not specify damages, co-owner Carolyn Landis reported last January the renovations cost about $500,000. Marita's Cantina reopened last spring.
According to the complaint, the plaintiffs entered into a contract with NJ Bell to provide telephone service and a contract with AT&T to provide maintenance.
The fire was "the proximate result of the negligence, carelessness, gross negligence and willful and wanton conduct of defendants, AT&T and NJ Bell," the complaint reads.
The plaintiffs' attorney, Mark M. Bridge of Westmont, could not be reached for comment.
The complaint requests a trial by jury.