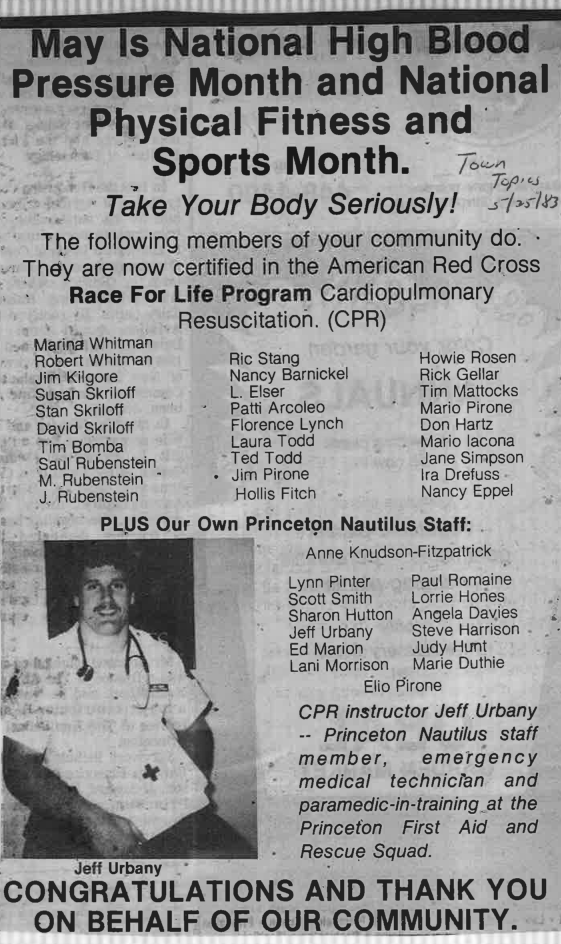 Town Topics
25 May 1983
May is National High Blood Pressure Month and National Physical Fitness and Sports Month
Take Your Body Seriously!
The following members of your community do.
They are now certified in the American Red Cross Race For
Life Program Cardiopulmonary
Resuscitation. (CPR)
Marina Whitman
Robert Whitman
Jim Kilgore
Susan Skriloff
Stan Skriloff
David Skriloff
Tim Bomba
Saul Rubenstein
M. Rubenstein
J. Rubenstein
Ric Stang
Nancy Barnickel
L. Elser
Patti Arcoleo
Florence Lynch
Laura Todd
Ted Todd
Jim Pirone
Hollis Fitch
Howie Rosen
Rick Gellar
Tim Mattocks
Mario Pirone
Don Hartz
Mario Iacona
Jane Simpson
Ira Drefuss
Nancy Eppel
PLUS Our Own Princeton Nautilus Staff:
Anne Knudson-Fitzpatrick
Lynn Pinter
Scott Smith
Sharon Hutton
Jeff Urbany
Ed Marion
Lani Morrison
Paul Romaine
Lorrie Hones
Angela Davies
Steve Harrison
Judy Hunt
Marie Duthie
Elio Pirone
CPR instructor Jeff Urbany – Princeton Nautilus staff member, emergency medical technician and paramedic-in-training at the Princeton First Aid and
Rescue Squad.
CONGRATULATIONS AND THANK YOU ON BEHALF OF OUR COMMUNITY.