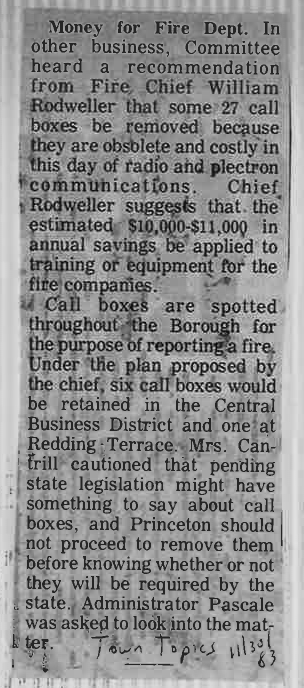 Town Topics
30 November 1983
Money for Fire Dept.
In other business, Committee heard a recommendation from Fire Chief William Rodweller that some 27 call boxes be removed because they are obsolete and costly in this day of radio and plectron communications. Chief  Rodweller suggests that the estimated $10,000-11,000 in annual sayings be applied to training or equipment for the fire companies.
Call boxes are spotted throughout the Borough for the purpose of reporting fire. Under the plan proposed by the chief, six call boxes would be retained in the Central Business District and one at Redding Terrace. Mrs. Cantrill cautioned that pending state legislation might have something to say about call boxes, and Princeton should, not proceed to remove them before knowing whether or not they will be required by the state. Administrator Pascale was asked to look into the matter.