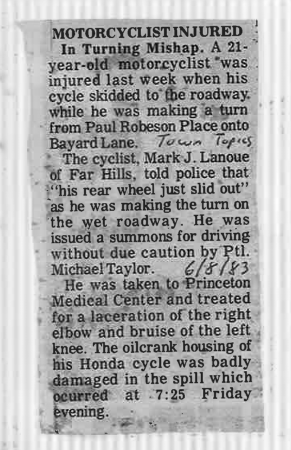 Town Topics
8 June 1983
Motorcyclist Injured
In Turning Mishap. A 21- year-old motorcyclist "was injured last week when his cycle skidded to the roadway, while he was making a turn from Paul Robeson Place onto Bayard Lane.
The cyclist. Mark J. Lanoue of Far Hills, told police that "his rear wheel just slid out" as he was making the turn on the wet roadway. He was issued a summons for driving without due caution by Ptl. Michael Taylor.
He was taken to Princeton Medical Center and treated for a laceration of the right elbow and bruise of the left knee. The oilcrank housing of his Honda cycle was badly damaged in the spill which occurred at 7:25 Friday Evening.