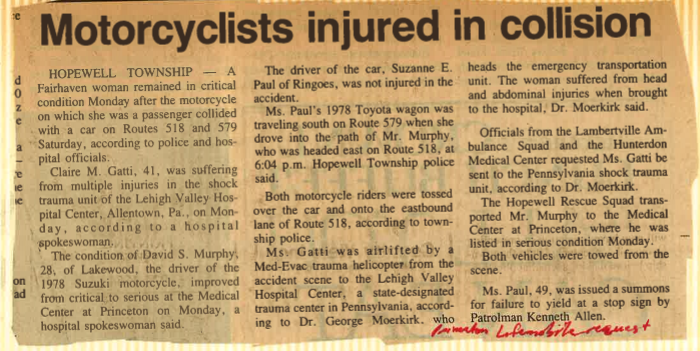 Princeton Packet
20 August, 1985
Motorcyclists injured in collision
HOPEWELL TOWNSHIP — A Fairhaven woman remained in critical condition Monday after the motorcycle on which she was a passenger collided with a car on Routes 518 and 579 a Saturday. according to police and hospital officials. Claire M. Gatti, 41, was suffering from multiple injuries in the shock trauma unit of the Lehigh Valley Hospital Center, Allentown, Pa., on Mon-day, according to a hospital spokeswoman. The condition of David S. Murphy; 28, of Lakewood, the driver of the 1978 Suzuki motorcycle. improved from critical to serious at the Medical Center at Princeton on Monday. a hospital spokeswoman said.
The driver of the car, Suzanne E. Paul of Ringoes, was not injured in the accident.
Ms. Paul's 1978 Toyota wagon was traveling south on Route 579 when she drove into the path of Mr. Murphy, who was headed east on Route 518. at 6:04 p m. Hopewell Township police said.
Both motorcycle riders were tossed over the car and onto the eastbound lane of Route 518, according to township police.
Ms. Gatti was airlifted by a Med-Evac trauma helicopter from the accident scene to the Lehigh Valley Hospital Center, a state-designated trauma center in Pennsylvania, according to Dr.George Moerkirk, who heads the emergency transportation unit. The woman suffered from head and abdominal injuries when brought to the hospital, Dr. Moerkirk said.
Officials from the Lambertville Ambulance Squad and the Hunterdon Medical Center requested Ms. Gatti be sent to the Pennsylvania shoch trauma unit, according to Dr. Moekirk.
The Hopewell Rescue Squad transported Mr. Murphy to the Medical Center at Princeton, where he was listed in serious condition Monday.
Both vehicles were towed from the scene.
Ms. Paul, 49, was issued a summons for failure to yield at a stop sign by Patrolman Kenneth Allen.