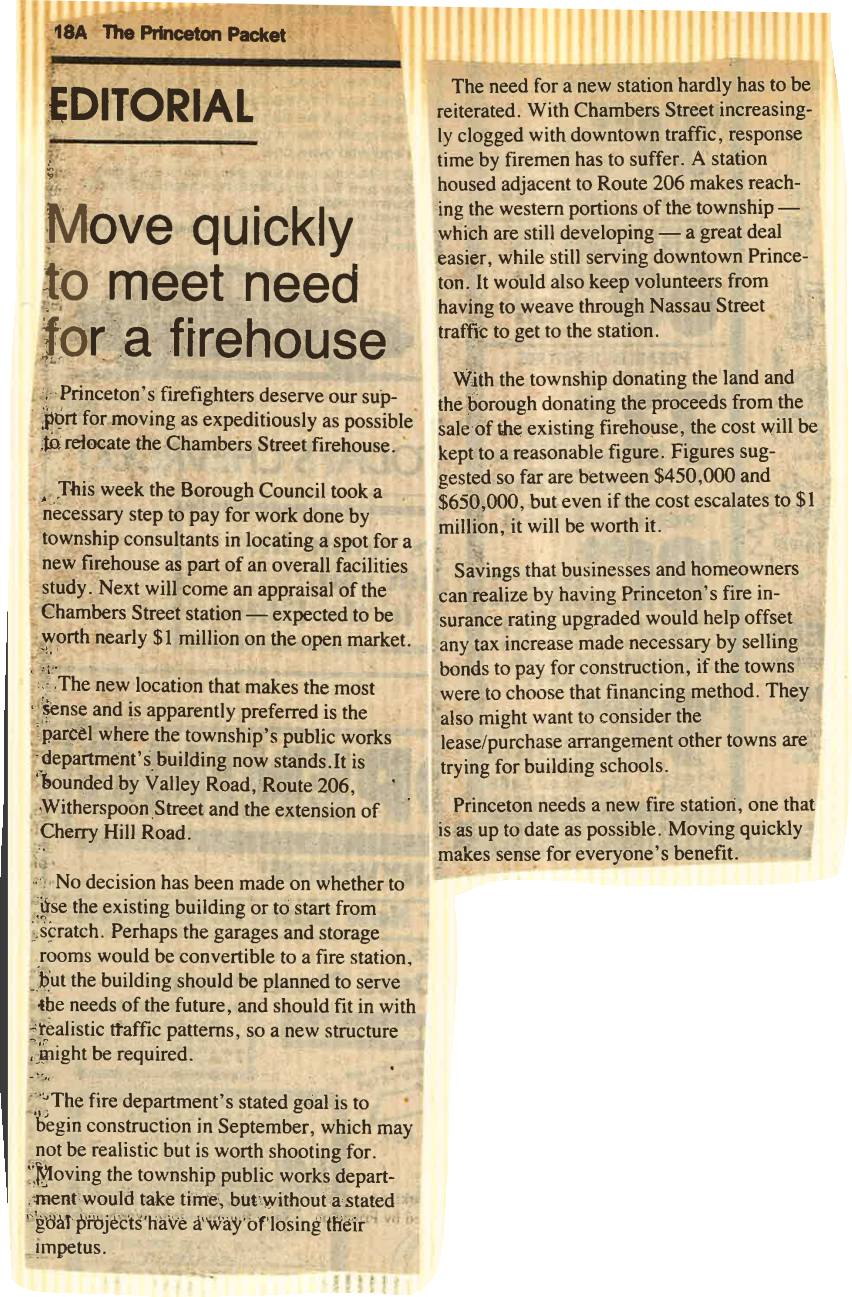 Princeton Packet
15 April, 1987 (~estimated)
Move quickly to meet need for a firehouse
Princeton's firefighters deserve our support for moving as expeditiously as possible to relocate the Chambers Street firehouse.
This week the Borough Council took a necessary step to pay for work done by township consultants in locating a spot for a new firehouse as part of an overall facilities study. Next will come an appraisal of the Chambers Street station — expected to be worth nearly $1 million on the open market.
The new location that makes the most sense and is apparently preferred is the parcel where the township's public works department'S building now stands it is `bounded by Valley Road, Route 206, Witherspoon Street and the extension of Cherry Hill Road.
No decision has been made on whether to use the existing building or to start from .Scratch. Perhaps the garages and storage rooms would be convertible to a fire station. but the building should be planned to serve the needs of the future, and should fit in with traffic patterns, so a new structure aright be required.
The fire department's stated goal is to begin construction in September, which may not be realistic but is worth shooting for. Moving the township public works department would take time, but without a stated goal projects have a way of losing their impetus.
The need for a new station hardly has to be reiterated. With Chambers Street increasingly clogged with downtown traffic, response time by firemen has to suffer. A station housed adjacent to Route 206 makes reaching the western portions of the township —which are still developing — a great deal easier, while still serving downtown Princeton. It would also keep volunteers from having to weave through Nassau Street traffic to get to the station.
With the township donating the land and the borough donating the proceeds from the sale of the existing firehouse, the cost will be kept to a reasonable figure. Figures suggested so far are between $450,000 and $650,000, but even if the cost escalates to $1 million, it will be worth it.
Savings that businesses and homeowners can realize by having Princeton's fire insurance rating upgraded would help offset any tax increase made necessary by selling bonds to pay for construction, if the towns were to choose that financing method. They also might want to consider the lease/purchase arrangement other towns are trying for building schools.
Princeton needs a new fire station, one that is as up to date as possible. Moving quickly makes sense for everyone's benefit.