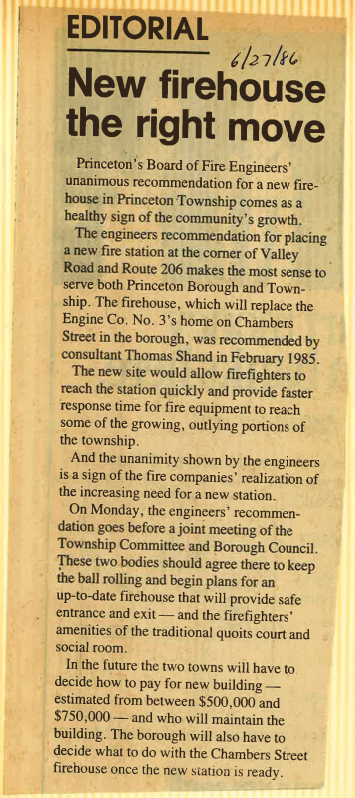 EDITORIAL
27 June, 1986
New firehouse the right move
Princeton's Board of Fire Engineers' unanimous recommendation for a new fire-house in Princeton Township comes as a healthy sign of the community's growth.
The engineers recommendation for placing a new fire station at the corner of Valley Road and Route 206 makes the most sense to serve both Princeton Borough and Town-ship. The firehouse, which will replace the Engine Co. No. 3's home on Chambers Street in the borough, was recommended by consultant Thomas Shand in February 1985.
The new site would allow firefighters to reach the station quickly and provide faster response time for fire equipment to reach some of the growing, outlying portions of the township.
And the unanimity shown by the engineers is a sign of the fire companies' realization of the increasing need for a new station.
On Monday, the engineers' recommendation goes before a joint meeting of the Township Committee and Borough Council. These two bodies should agree there to keep the ball rolling and begin plans for an up-to-date firehouse that will provide safe entrance and exit — and the firefighters' amenities of the traditional quoits court and social room.
In the future the two towns will have to decide how to pay for new building —estimated from between $500,000 and $750,000 — and who will maintain the building. The borough will also have to decide what to do with the Chambers Street firehouse once the new station is ready.