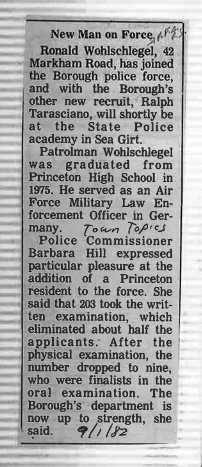 Town Topics
1 September 1982
New Man on Force
Ronald Wohlschlegel, 42 Markham Road, has joined the Borough police force, and with the Borough's other new recruit, Ralph Tarasciano, will shortly be at the State Police academy in Sea Girt.
Patrolman Wohlschlegel was graduated from Princeton High School in 1975. He served as an Air Force Military Law Enforcement Officer in Germany.
Police Commissioner Barbara Hill expressed particular pleasure at the addition of a Princeton resident to the force. She said that 203 took the written examination, which eliminated about half the applicants. After the physical examination, the number dropped to nine, who were finalists in the oral examination. The Borough's department is now up to strength, she said.