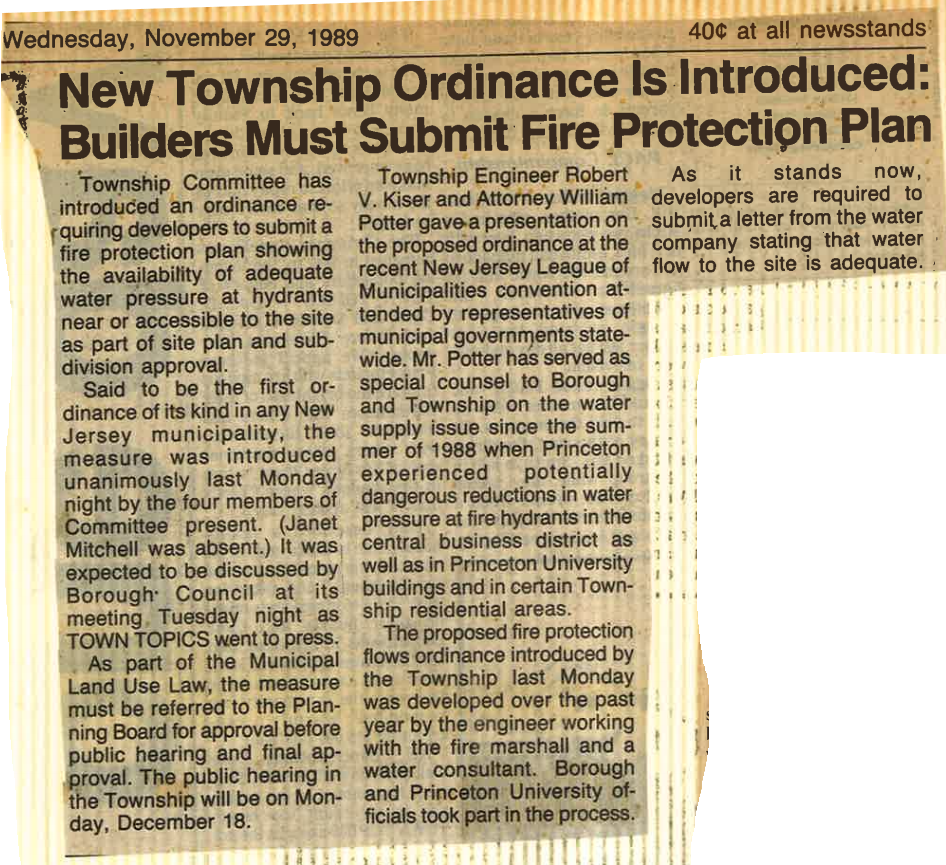 29 November, 1989
New Township Ordinance Is Introduced: Builders Must Submit Fire Protection Plan
Township Committee has introduced an ordinance requiring developers to submit a fire protection plan showing the availability of adequate water pressure at hydrants near or accessible to the site as part of site plan and subdivision approval.
Said to be the first ordinance of its kind in any New Jersey municipality, the measure was introduced unanimously last Monday night by the four members of Committee present. (Janet Mitchell was absent.) It was expected to be discussed by Borough. Council at its meeting Tuesday night as TOWN TOPICS went to press.
As part of the Municipal Land Use Law, the measure must be referred to the Planning Board for approval before public hearing and final approval. The public hearing in the Township will be on Monday, December 18.
Township Engineer Robert V. Kiser and Attorney William Potter gavea presentation on the proposed ordinance at the recent New Jersey League of Municipalities convention attended by representatives of municipal governments state-wide. Mr. Potter has served as special counsel to Borough and Township on the water supply issue since the summer of 1988 when Princeton experienced potentially dangerous reductions in water pressure at fire hydrants in the central business district as well as in Princeton University buildings and in certain Township residential areas.
The proposed tire protection flows ordinance introduced by the Township last Monday was developed over the past year by the engineer working with the fire marshall and a water consultant. Borough and Princeton University officials took part in the process.
As it stands now, developers are required to submit a letter from the water company stating that water flow to the site is adequate.